THE OSPREY SPECIMEN GROUP BOOK LAUNCH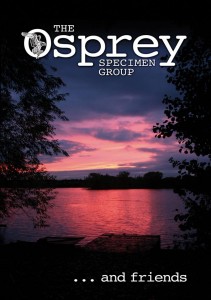 The book has now gone to press, and will be launched at the Lands End on May 31st where the selling of the 50 First Edition cloth copies will take place.
No pre orders will be taken for these. First come, first served one per person and priced at £40 inclusive of a numbered and signed certificate. 20 leather bound copies @ £180 will also be produced which will go on general sale from tomorrow. The standard copy is priced at £25.
Here is the contents list that makes up the 360 pages, and a fantastic book for all to buy especially for the value.
Bob Hornegold Introduction 7
Mark Walsingham A Carp Pool 9
MIles King A Tribute to My Brother 10
Chapter 01 Tony Gibson Bouncing Back 13
Chapter 02 Chris Ball Pilgrimage to Beechmere 37
Chapter 03 Paul Stapley Holy Trinity 43
Chapter 04 Neill Stephans Boris and Betty 51
Chapter 05 Ray Taylor A Lifetime of Angling 57
Chapter 06 Jim Morson Big Carp Memoirs 63
Chapter 07 Bob Hornegold 2012-13. The Real Chub Story 77
Chapter 08 Chris Turnbull Of Fireworks and Roach 89
Chapter 09 Ryan Burton A Break From Tradition 97
Chapter 10 Paul Moulder A Little Piece of Heaven 105
Chapter 11 Mike Lyddon Cru's Control 117
Chapter 12 Daryl Close A Learning Curve 123
Chapter 13 Sam Meeuwissen Red Letter Day? More Like a Four Letter Year 143
Chapter 14 Dave Loftus An Obsession With River Pike 157
Chapter 15 Bob Hornegold Always a Specimen Hunter 165
Chapter 16 Richard Borley Lea Valley Memories 173
Chapter 17 Warren Gill Going With The Flow 179
Chapter 18 Gary Newman Chasing Dreams 187
Chapter 19 Bob Morris Trace Elements and Lost Leaders 195
Chapter 20 Mark Walsingham Days With Prof. 201
Chapter 21 Clive Bradley From the Beginning 213
Chapter 22 Phil Buckingham An Occasional Tench Angler 219
Chapter 23 Peter Akehurst The Last Cast 225
Chapter 24 Simon King What Lengths Would You Go To Catch a Fish? 229
Chapter 25 Bob Kitchener Virgin Barbel 237
Chapter 26 Joe Royffe Species of the Seasons 245
Chapter 27 Tony Pithers Crucian Quest 255
Chapter 28 Martin Bowler Time With Simon 259
Chapter 29 Tony Meers My Quest for a Thirty 265
Chapter 30 Lee Tebble Opportunity Knocks 275
Chapter 31 Christian Barker Stalking Chub With the 'Super Naturals' 281
Chapter 32 Chris Yates Survivors of the Ice Age 295
Chapter 33 Mark Salt The Beginning 297
Chapter 34 Gary Newland Relief Channel Carping 307
Chapter 35 Len Arbery Thames Barbel Fishing 1950s – Present 313
Chapter 36 Graham Elliott Fishing With Simon 331
Chapter 37 Barry Shipman Dream Fish 333
Chapter 38 Bob Buteux All's Well That End's Well 339
Chapter 39 Jerry Hammond The Journey Continues 343
Chapter 40 Chris Nicolaou M-Tech Recipe 360
I think I will be having one of these :O)