Welcome back to Lee Swords Fishing, it has been a while, a very long while.
One or two things conspired to rob me of my writing mojo, one being the big hit on the head from a dead tree and the other being a piece of cheese I found on Facebook…Less said about the cheese the better though, so I will leave it at that and never mention it again.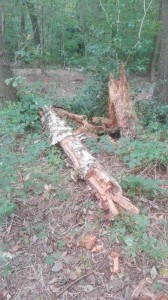 Its been a couple of years since I last put finger to keyboard with any enthusiasm, don't get me wrong , I have still been fishing and on occasion I have still been catching but the thought of producing anything even remotely more in depth than an occasional Facebook update has just not been there.
Well, now it is and I am not sure if that will prove to be a good thing or a bad thing…Only time will tell!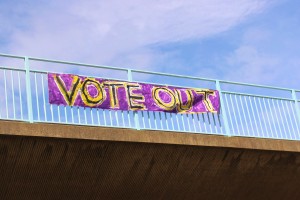 So, what has been happening in the world since the last time I was last here?
Well, we had the Brexit vote and my side won, in fact my side won so convincingly that London went into meltdown, the only aspect that fogs the issue is the populous nature of London and the number of people held therein, the fact that the vast majority of Londoners live within a little M25 bubble and they chose overwhelmingly to vote remain tightened the numbers, but when it comes to constituencies leave has a vast lead, a landslide in fact.
Something that seems to be lost on the Government that has spent the last two years trying to figure a way out of the mess they never thought they would have found themselves in considering they used every dirty trick in the book to cow the British people into voting to keep the gravy train well and truly on its tracks.
The people will be ready to remind them of the folly of thier ways come the next General Election.
However let's not get lost in politics just yet…so, moving on….lets have some fishing content!!
One aspect of my fishing is that I have really started to enjoy is my sea fishing unfortunately as I live in Sheffield and as such live about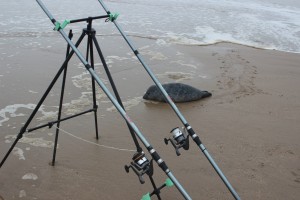 as far from the sea as is possible, most of my sea fishing has been done on holiday.
That said I have made a few journeys to the coast with my regular fishing partners Martin Womble and Dan Stewart-Smith around Lincolnshire to try our hand at catching a shark…any shark would do, Dogfish, Smoothound, Bullhuss…I am not bothered really, it certainly doesn't have to be a Great White, in fact I think I would prefer it if it were not a Great White!
In my opinion, an angler should always start with small targets and grow them as thier experience improves, what's the point in chartering a boat off the coast of South Africa to catch a Great White of 1000lb plus when you haven't even had a Weasle Shark of 5lb? or a Smoothy of 10lb?
Anyway, Skegness aside, as is usual I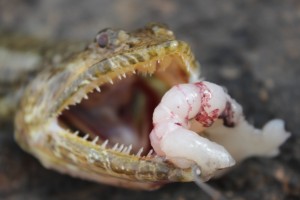 tried my hand in Lanzarote again for a shark but failed miserably, I did however get a new PB, a lizardfish!
I only wish is that like Gudgeon, Lizardfish grew to double figures!
What a fish they would be!!
In fact sport was so bad last year in Lanzarote that I packed up fishing for the big fish eventually and just amused myself with LRF and soft  and in doing so I had fish almost every cast.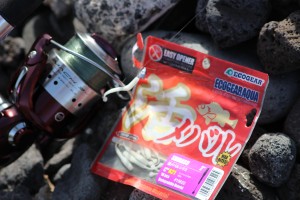 It seems that when speaking with the locals the sea was just too warm at the coast and as such the bigger species were staying out at sea and not coming close enough inshore to become a viable target from the beach.
I did however manage a few Moray Eels and a very big Triggerfish but that was about it on the rod bending quality front, I left Lanzarote feeling decidedly let down…but that is fishing!
If it were always that easy it would be called catching and would in fact very quickly become as boring as watching paint dry or listening to a remainiac tell me that I didn't know what I was voting for in 2016 and everything is going to end in a violent cataclysm of fire and blood.
Anyway…
The failure of Lanzarote proved to be the spur needed to book a holiday specifically to catch a shark…and I had already had the seed of a plan set by a Facebook friend Ashley Mould .
Cape Verde!!
I had seen Ashley and his girlfriends holiday shots on facebook…and some of them had sharks in them!!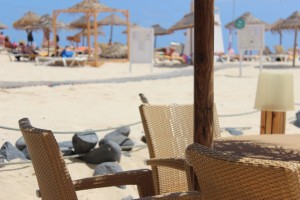 And to make things even better, the sea looked to be crystal clear, the sun looked to be big and yellow, the clouds were none existent and in the background I was certain would be a beach bar or other such place of refreshments! Oh, yes, Cape Verde it would be!!
Tina was well up for it and it was soon decided that we would take this holiday as a celebration of my 50th birthday, we would also take it alone, as in without the daughter…
Olivia has done really well at school and gained the points needed to gain entry to Leeds University to study English and Film with an eye on becoming a screenwriter or such likes, both Tina and myself could not be any more proud of her but we decided that we could not in good conscience threaten her studies by removing her from University for a week.
Olivia quickly pointed out that the week in question was in fact "a reading week" and she could just as easily read on a beach as in her dormitory and we should take her if we considered ourselves to be fit and proper parents.
We eventually buckled and looked to add her to the booking, unfortunately the hotel and flights had filled up while our guilt levels had reached critical mass and so it was with heavy heart we told her that she would be spending reading week in England and not Cape Verde. We felt so very guilty when we told her.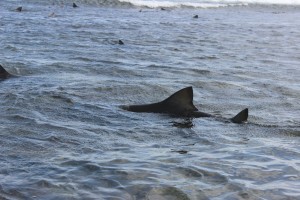 It was at this point Olivia told us that there was no such thing as reading week and she had fabricated it all on the hoof as a ploy of getting a week on a beach, I suppose you cannot fault her for trying.
So lets get to the nitty gritty of fishing Cape Verde, I didn't really want to get pestered by the small stuff so I fished relatively big baits to avoid the "million mouthed monster" that I was sure would be in residence.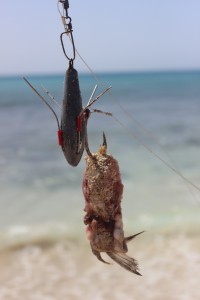 I have no interest in bagging up on small stuff even though I think I could have great fun doing so.
I have a plan, I want to catch a shark.
I must maintain focus!!
The first problem I found was not getting hold of bait, that was relatively easy, down on the jetty at Santa Maria, all manner of suitable bait could be bought for about 4 Euro a kilo, the best baits by far were the mackerel types, with the black mackerel being the best of the lot., no, the first problem was finding a quiet spot to fish during the day.
A life guard politely asked me to move on the first day as the beach was getting too busy, so a walk or short taxi ride will generally be in order.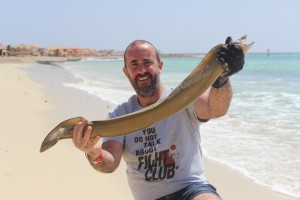 During the  day I could not find the sharks, I could however guarantee a steady stream of Moray Eels willing to destroy dozens of rigs within minutes of casting out.
I am not a fan of Moray Eels, they are a nightmare fish to deal with as they drag rig after rig into thier caves and only absolute brute force and fast reaction give you any chance of extracting them once they are i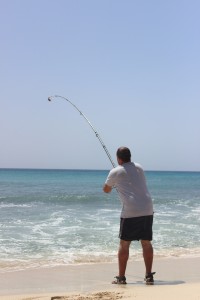 n.
So, with me quickly losing interest in dragging out dozens of Moray eels it was an easy decision to make.
I would not fish on the broken ground, I would fish on the sandy beach and that was only possible after the other tourists had gone back to thier hotels and apartments, so I had to fish at night.
Which was ideal as we had gone all inclusive, so we enjoyed " all inclusive", we ate, we drank and we were merry, but at 10pm when most other couples were about to plunge over the abyss into a bottomless pool of Gin Fizz, Tina and me went down to the beach for a few hours of fishing.
And it was great!!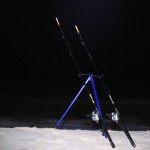 I would love to say that the fishing was a challenge and that I really had to work hard for my runs but that would be a lie, the only challenge was the sea, it can be quite rough but as long as I could get a bait over the breakers I generally did not have to wait long for an absolutely screaming take. I would say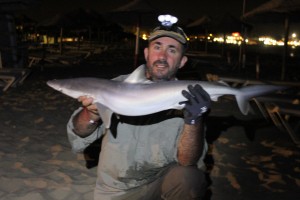 I had about ten good runs on the first night and I managed to hook up with four, one slipped the hook and three came to shore, the biggest being about 12-15 lb.Looking at the picture one may wonder why I have a glove on one hand and not the other, I am not Michael Jackson afterall.
Well the glove is stab proof and even though my unprotected hand is the one closest the mouth in this shot it was my gloved hand that had to remove the 6-0 circle hook from the corner of its mouth.
To be honest, I don't know what type of shark this is, I think it is a sand shark, what I do know is that it went well and has teeth…so you will need forceps, pliers, wire cutters and snips capable of cutting very heavy gauge hooks…circle hooks…Of all the fish I caught over the week only one was not hooked in the scissors and had to have the hook cut up and taken out in chunks.
I did eventually hook into something a bit bigger and even though I was loaded for what I considered "bear" I was under gunned as a bigger shark headed off out to sea and towards Brazil.
A conversation with one of the boat owners the next day informed me that occasionally VERY large sharks come close enough to shore, his best being over 600lb of very angry Tiger Shark.
I am not ready for that just yet!!
So how has the fishing been going in Britain?
In all honesty the fishing has been going pretty well, the pb's have been falling with reasonable regularity and after the broken neck/tree episode that is about all I can ask for. A trip down onto the Wye had me land a very nice pike of over 25lb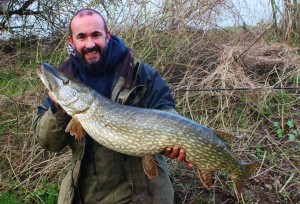 the River Wye is such a wonderful river and probably the best pike river in the country.
I cannot proclaim to be a massive pike expert so the results I have had from the river in only a few trips are astounding.
My main river, he Trent gave me a new barbel pb this year, a fish of 14lb 9oz that came in a mega catch of fish during daylight hours, as I recall I have four doubles that day, the power of micropellet with a tasty paste wrap cannot be over stated in my opinion.
I suppose I should have really pushed hard with the barbel but in reality how many barbel does a man need to catch? I have caught plenty of barbel over the years and if truth be told, I really think that I prefer catching chub at the moment. The chub are wily and sneaky, the tactics are lighter the gear more sporting and even though they can be targeted using extremely heavy gear , more often than not I scale back and fish in a more traditional chub style.
Down on the field
So…Finally…How are the butterflies and things going on down on my field?
Not bad, not bad at all, we had a very shitty spring with late snow which I thought would have an extremely adverse effect on things but a long warm and dry summer saw things bounce back very nicely indeed!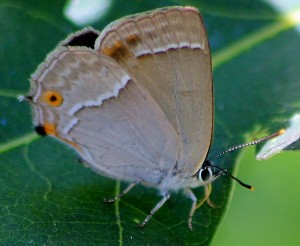 I also had a few new species show up, the Purple Hairstreak appeared in huge numbers, possibly forced down from the high oak canopy of Bowden Houstead woods by the heat and lack of rain fall and onto the smaller scrubby oaks where they looked to be feeding on honey dew.
Trying to get an open wing shot of the PHS is a fools errand and one that I wasted a fair few afternoons on, I did finally get the shot but the individual in question was so old and so shabby that the rewards did not warrant the effort.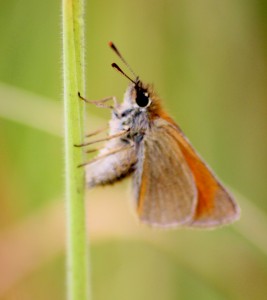 I also spent days chasing around after the Skippers and came to the conclusion that for every ten or so Small Skippers that I have on my patch one of them is an Essex Skipper.
The only difference being the colour at the tips of the antennae.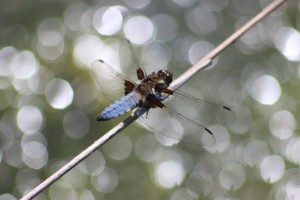 The long hot summer also had the field humming with dragonflies.
My one big bug bear is that the wetland patch that the new fire station  which was part of the environmental remodelling dries up in summer and so any eggs that have been laid or any nymphs that have hatched are doomed to death, which in my opinion is a bloody waste of time.
Reyt, that is about me done for now
I shall not bore you much longer. All I will say is this, don't fall to apathy, the politics of Europe are at a cross road. It is time to pick a side, for me I am with the Brexiteers and the Yellow Vests of France, I am with President Trump, I am with Salvini and Orban, I am with Le Pen and Putin, I am with UKIP. If you cannot handle that, then please expect to be challenged and possibly offended, I also don't care if I offend, offence doesn't hurt. Get over it.