Where to start….
The fishing was going well, things were starting to come together quite nicely, group chats were active, plans were being made and things looked to be "glorious" for the glorious 16th.
A group of like minded anglers met for a pre-season BBQ at the home of Bob Roberts and everything seemed to be blossoming rather nicely as old friends reaquaintented themselves with each other.
The modern world is too fast and contact can soon be lost as we spin ever onwards inside the hamster wheel of modern living.
It was good to see these people, it was good to spend some time, eat, drink, talk and especially laugh.
The biggest laughs of the night came from Mike Townsend, his recalling of his " near death experience" was far too frightening to not raise a laugh and his bone dry humour only served to polish up a story that had the hairs on the back of every neck standing on end and everyone searching the dark corners for the telling silhouette of a cloaked man carrying a scythe. It seems Mike had developed an allergy to horses and his body had not taken it at all well, eventually he had been between one and three hours from death and only the progress of medical science had thwarted Bill Door in his tracks, Medical progress had saved the day, the only downside as far as Mike was concerned being a slight bloating from the steroids…and as the steroids made Mike look a shade more portly than usual he would treat himself to another slice of cake.
And then the rain came and pissed all over Summer.
On the night of the 15th of June I was informed that Mike Townsend had passed away suddenly. I was completely broken by the news, only the week previous we had arranged to do some barbel fishing on the Trent and here I found myself sobbing into a gin and tonic completely uninterested if I ever fished again, life had been brutally dragged into absolute pin sharp focus.
Life is finite and death is not obliged to give notice for it does not consider the plans of mortal man, so enjoy it while you can, you have no guarantee of tomorrow.
This is a lesson I had taught me by a falling tree a few years previous but occasionally the universe in it wisdom chooses to retell it, we need to live rather than just exist , to make a difference, to push onwards, to experience everything possible, life is for living and we should live it with those of us that were not so lucky as to have been gifted another day in our hearts and minds.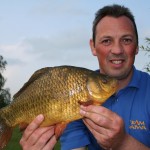 My own specimen fishing has been interwoven with Mike Townsend for a long while, we didn't often get out together but when we did it was always special, Sywell and Linear for Tench, a place on the south coast for Silver Bream, the Junky for Perch, Marsh Farm for Crucian carp, the Great Ouse for Zander and of course the Trent for Chub, every specimen fish I catch from this point onwards will be a little nod to Mike.
I am a decent angler but Mike was one of the greats and I am thankful that I knew him.
The Barbel have been obliging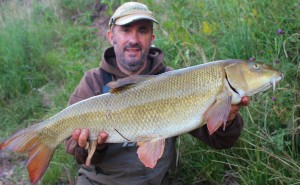 But then again barbel generally are, big barbel were the subject of the last conversation I had with Mike, big barbel and Red Velvet cake to be precise but big barbel were that mainstay of the conversation. Mike had wanted to catch a barbel over 13lb this coming season, alas it will not happen so I will try my damned best to make it happen instead.
So far I have been on fire with bigger fish, racking up twenty four barbel over 10lb so far this season with the biggest of them just shy of my PB of 14lb 9oz.
The crazy thing being she was by far the biggest barbel I have ever seen in the flesh let alone landed, unfortunately for my PB list she was at her absolute bottom weight and will at this point in time be steadily creeping towards that magical 15lb barrier, maybe I will be lucky enough to make her acquaintance again at the tail end of the season when I expect she will obliterate my PB and earn herself a bottle on top of my bookshelf.
I suppose you are wondering what I have done to deserve such success? The answer is simple, I have used good bait, I have used Hook Bait Company Nimrod pellets and boilies but feel free to use whatever bait you want…but I like HBC…it works and it is under-used so it doesn't "blow" like other baits that are more easily available off the shelf from tackle shops.
Soon be back on the beach
Summer holidays for the Swords Clan are just around the corner and the destination once again will be Lanzarote, last year the bait fishing from the beach fishing was difficult with very little of anything to show for my efforts, this year i will try something different in an attempt to get a trophy shot.
I will do a little more night fishing!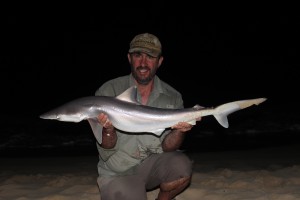 After all it worked a treat in Cape Verde! Seven days of being a tourist on the island of Sal and seven nights chasing sharks made for a very enjoyable holiday indeed and I have to admit I still have a need to bag myself a bigger shark but for now I have had a big Stingray on my mind, its been niggling me for a few years and this year I am going to really try for one, I have had a few smaller ones but I want a big one now.
Yes, I will have to be very careful as they are venomous if they manage to sting me so I will have to ensure I have protective gloves on and my wits about me otherwise my holiday medical insurance premiums will be going up next year, although that said Cuba is renowned for its medical care!
Yup, you heard it here first, next year it looks like it will be Cuba for the summer holiday, as they say a change is as good as a rest and it is a big world out there.
I have to admit I am already getting very excited about it, I think as I get older fishing in the sea is becoming more and more a favourite passion of mine, it is just a shame that sheffield is about as far away from the coast as it is possible to get in England.
Now we have a BoJo!!
I couldn't not mention Boris Johnson becoming Prime Minister, that would really not be right at all.
Well…
It seems that the entire world population of Liberal Snowflakes has gone into meltdown as Britain "elects" what they are calling our very own "Trump"
What I want to know is this…If all the previous Presidents, Prime Ministers, EU Commissioners and all the rest of the piss poor rabble that have been running the world for the last 50 years have been so good, so effective, so brilliant, so beneficent, how come the world is such a shit hole?
The answer is simple.
Its a shit hole because they want it to be a shit hole, there is a great deal of profit in shit.
So why repeat the experiment ad nauseum?
What if people like Trump and Bojo are the answer to our problems?
Yes, they are both at times absolute dickheads, completely self obsessed and utterly repugnant characters but what if that is what the world needs?
What did the world get from Obama? It certainly didn't get peace, he dropped 126,000 bombs on 7 countries, killed tens of thousands possibly hundreds of thousands, displaced millions and caused absolute misery to even more …and he was the good guy?
Are you fucking shitting me?
Only an idiot repeats the same experiment over and over expecting a different outcome…I say its time for change.
Down on the field
The weather is very changeable, one day is hot, the next day its wet  and as such I am getting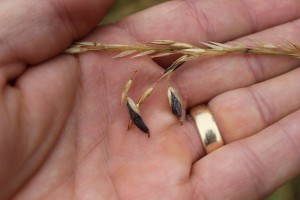 a bloody great crop of ergot coming through, I like ergot, it is truly dangerous!
I suppose I could, if I was of a mind really spoil somebody's day with a few grains of this stuff, it really is powerful juju, responsible for the Salem Witch trials and more than a fair chunk of the bible if some of the bollocks in the Book of Revelations is anything to go by unfortunately as well as being a potent psychoactive it is also rather a nasty poison and has been responsible for countless deaths over the centuries.
So!!
Do us all a favour and don't chew grass thinking you are some kind of rural type, its bloody infested with this stuff, seriously, it will shit all over your day if you inadvertently get this stuff in your mouth, it can even go through your skin so don't even touch it.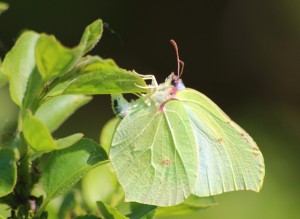 On the plus side, the butterflies are doing well and Handsworth has a new species, the White Letter Hairstreak!
No….that is not a White Letter Hairstreak, that is a Brimstone laying eggs!!
The White Letter Hairstreak is bound to the fate of Elm trees and as we lost so many Elms in the 1980′s we also lost an equal number of WLH's
However I spotted a brand spanking new one on Handsworth Avenue feeding on a little bit of Yarrow growing on a grass verge, the butterfly does not travel far from its host tree so there must be a colony close by. I have done a bit of searching and have found a couple of Wych Elm  relatively close by but no sign of any more butterflies as of yet….But!!
Just as I did with the Brimstone above, I will do with the White Letter Hairstreak, I will save my pennies and buy some disease resistant Elms as well as grow some Elms from seed and I will plant them where I think they will become host plants, yes, it will be a long term project, no, I may not see it to fruition but I will give it fucking good go!
I planted that Buckthorn the Brimstone is laying its eggs on, I did that and I will do the same with Elms….If I get the butterfly…Bonus!!
One last thing before I go…If you have enjoyed the "read" give me a "like" and possibly a "share" or even leave a "message", it lets me know that people are reading this stuff and gives me the motivation needed to do more…THANKS!!