It has been a hard few weeks of late, I don't generally flourish in the Closed Season and this years Closed Season has been especially hard as "Clan Swords"was involved in a very minor car accident on the way to Sheffield Dog Track to celebrate my 50th birthday.
Luckily everyone walked away with only minor whiplash injuries, minor injuries for anyone that hasn't previously broken thier neck, I have to admit that the whiplash has been a complete bastard and has set me back almost completely with the recuperation from the C1 neck fracture. The headaches are back with vengeance and even simple tasks such as sitting and reading a book are a bloody nightmare but that said I will not complain too much, I have been very lucky and everyone else involved was pretty much ok, so I shall move on.
Comizo update
It is May, that means I have been lucky enough to have visited Spain again, this time Tony asked my school mate Dan Stewart-Smith
if he would like to join the trip. It was a great trip made especially great because it was Dan's first time barbel fishing on the Guardiana for the barbel species, I think he ended up with four different types, the Comizo, the Smallhead, the Gypsy and the crossbreeds that are a little bit of everything.
But like me Dan likes all his fish so he also added two species of catfish to his pb list as well, the super annoying "Poisson chat" and the Channel Catfish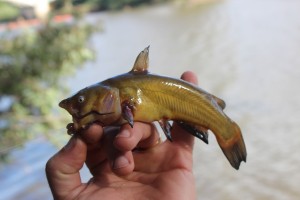 both of which do not make Tony's list of preferred species and if I am honest as a bit of an environmentalist and as they are all invasive foreign pests, I would if push came to shove admit that I would rather they were not there but alas they are so I will take them as pb's when I catch them.
My fishing was a little bit slower than last year , last year I bagged 60 plus, this year it was 30, I am going to blame my neck and the headaches but if truth be told it may have something to do with me being a year older and a year slower…also…How many barbel do I need to catch?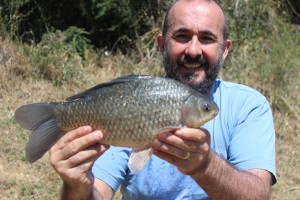 Is it better to focus 100% on the fishing or just lay back and enjoy whatever comes in the company of good mates?
I think I will go for the latter. One fish that did turn up in numbers for me this year though was the Carpino / Spanish Crucian/ Prussian carp creature, these and thier " King carp cousins" don't count in the "barbel" total.
But that said, they are a pretty little fish that scrap reasonably well on light gear…Unfortunately for them I wasn't using light gear, so they got hoist ashore in seconds!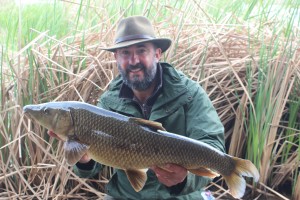 Their bigger cousins however gave a much more spirited show of themselves but they too don't count on the barbel list, the only fish we really want to see on the bank are the barbel and the bigger the better.
My best for the week was a 10lb 9oz Comizo barbel, Tony had a rake of doubles and Dan had a double hookup brace of Comizo 24lb 8oz.
Back in England
Back home you would have to be a complete Hermit to be unaware of the politics that is swamping everyday life, unfortunately it seems the mainstream media and successive Governments have done a bloody good job of desensitizing and dumbing down millions of us Brits, a coup upon democracy and a very low turn-out at the local elections has given those that chose to remain a part of the corrupt EU a new lease of life.
My only wish is that people would wake the fuck up rather than accept what they are given, the mainstream media is bullshit, the BBC is lies, the printed press is garbage, people need to do some research, question the given narrative, accept nothing on face value and use thier democratic right like a weapon.
Facebook has begun a purge of so-called dangerous individuals, all of which are supposed "Right-Wing extremist" but still they allow radical Islamic content to pour through without challenge, I fear itr will not end well.
Anyone that chooses to silence a critic rather than debate thier point cannot have much of an argument to start with.
Down on the Field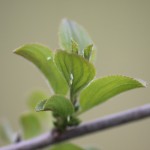 Spring has been kind this year, the weather has been warmish and for the most part settled, the Buckthorn trees that I planted four or five years ago are maturing nicely and as they grow they are beginning to attract more and more attention from the Brimstone butterflies.
I did think about trying to introduce some Marbled White Butterflies but after a discussion with some seriously well informed lepidopterists it seems I  may need to introduce a fungus first!
nature is amazing, it is so complex and so interwoven, different species reliant on others for sustenance and safety.
You see, the Marbled White butterfly feeds on Red Fescue grass ( as well as others) that is infected with a fungus, the caterpillar stores the toxin from this fungus and uses it as a natural defence mechanism against predators…So it isn't as easy as I thought, yes, I may have the grasses and yes, I do have the preferred nectar plants….But I don't know if I have the fungus.
I suppose I will just have to try to inoculate my field with the appropriate fungus by going to a Marbled White colony and taking a number of grass cuttings and transplanting them (and hopefully the fungus) back at Bowden.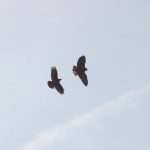 It is just a shame dead pigeons don't carry the fungus as the local buzzard is leaving me with at least one or two carcasses a week.
Anyway, that is all for now.
Soon it will be the river season and time to try for that elusive 15lb barbel!