November fishing blog
A change was as good as a rest…The rains have arrived and now it is onward and upwards!
I will start with an extract from an article I have sent into CAT
After suffering a mild case of burn-out I found myself on a fast cooling but slightly coloured River Trent facing a twenty four hour session that would either make or break my river season here is how it went.
On arrival at the car park I found that I had about an hour of daylight left to get to my peg, get set up and get fishing before nightfall, it would be close, even in good conditions, I was running late, the M1 had been a complete nightmare and just to make things worse it was beginning to rain cats and dogs.
I arrived at my chosen peg looking something like a drowned rat, the Korum waterproofs had done their job on the outside but  I needed to strip off and I needed to strip off fast otherwise I would overheat
The Oval went up first and under that everything got pushed. Luckily I am very practiced at this part and within a few minutes everything was set up and ready to rock and roll.
A quick glimpse of the river filled me with hope, it was a slight up, a shade coloured and trapping through at a lovely rate of knots, a large splashy roll at the bottom of the swim further boosted my confidence, it was game on , bait would be a combination of a "high attract low feed" ground bait from my sponsors the Hook Bait Company boosted with a handful of very small low oil fast breakdown pellets that have been thrown in just to add a little interest, in another month I wouldn't even add these, it would be a bare bones high attract low feed effort that would be nothing more than smoke and mirrors when it came to actual food content.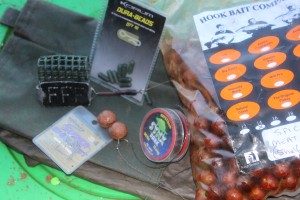 The hook bait itself would not for a change be pellet based, the time of the pellet hook bait has now passed, the Trent is cooling fast and with this drop in temperature comes a corresponding drop in my target fishes metabolism, feeding windows will be getting shorter and the amount of food they will consume will be getting smaller so I would need something that would be able to sit out in the river for a good few hours and not have me worrying that it has broken down or lost its potency. Pellets are number one when the fishing is fast and frenetic but they breakdown too fast and then they lose their potency.
These boillies really look and smell the part but me being me I still wasn't satisfied that they were ready to be offered for sampling so I dipped them in liquid Stimanol "gloop"
I love a good gloop and the Stimanol gloop ticks all my boxes, it reeks, its perfume is redolent of the street food traders of Pattaya and Phuket with hints of Immingham and Grimsby on a warm summer's day in August thrown in for good measure.
I had connected my hook lengths via one of Korum's clever little Dura-bead snood type contraptions which meant that I could swap and change easily between differing lengths of end rig with ease. Sometimes the barbel on the Trent demand a very long hook length before they will feed confidently, this I was willing to give them but with tonight being a dark session I would forgo the subtleties of either a fluorocarbon end rig or the cuteness of a combi rig. There was in my opinion no need to go down that route, straight up coated braid would be fine and it would give me extra confidence if I did manage to hook a beast with all the weed beds that had sprung up during the dry bright and clear summer we have just come through.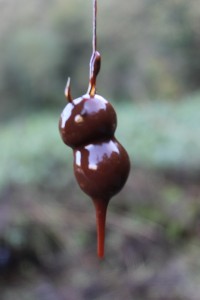 And so with two "double drenched" boillies super glued and hanging from a size four Drennan Super Specialist that had been tied onto about four foot of Kryston coated braid that goes by the name of "Synx" I made my first casts; I would be fishing to the crease, with one rod slightly upriver and one towards the tail of the swim but with both baits on the same line so that I create a single well defined scent trail.
I did not have to wait too long before the upper rod began to "nod", it looked for all the world that a bream had picked up the scent trail and was doing its best to lift the 3oz Fisky's Fantastic Feeder from the riverbed…It seemed to be failing.
Grabbing the rod and disengaging the bait runner I bent into something altogether very un bream like, it was a solid thumping mass of sacked potatoes…it felt huge! But it was going nowhere, then "ping" the line cut through a stand of dying weed that must have been tethering everything in place and all Hell broke loose!
The Mark Tunley's do their job impeccably as per usual and the Shimano although about ten years old performs without flaw or failing.
Within a few minutes the landing net is in the margins and the rod tip is being raised towards the zenith…over the lip of the net she goes without much fuss or fanfare…and she is big!!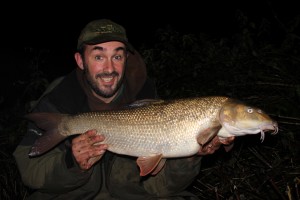 Oh, my lord…
The Reubens said "14lb 2oz" and I simply smiled in return, a new personal best, a big long fish with a lot of growth potential,
And a half hour later I set about repeating the process…This time the fish was smaller and with the wet drizzly weather I was not about to mither the Cannon nor the Reubens to record a fish of perhaps 9lb, the same went with two of 8lb and one that was obviously well over 10 but not quite 11lb.
However I did make them come out to play when I hooked into another beast that was obviously well worth the effort of getting wet.
The Reubens said "13lb 6oz" and once again I simply smiled.
Two personal bests, a single fish of 14lb 2oz and a brace of 27lb 8oz.
It isn't all about size although girth does matter
Prior to me bagging the new PB I had spent a day on the tidal Trent with Martin, the fishing was extremely slow but right at the last I managed to save my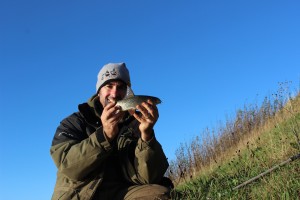 blank.
The weather wasn't perfect for fishing being very bright and rather cool but I am just making excuses…the head wasn't totally in it but the day out was a welcome relief from the pressure of work.
Anyway, I tried as best I could to do a "Rinko" release shot…I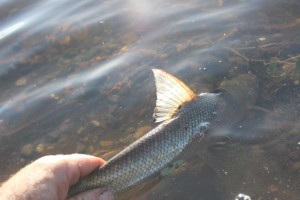 hope you all approve…I hope you do…I don't really care if you don't but I hope you do.
I love little barbel they are great indicators that the river is doing well. Its all good having these Behemoths but when they die ( and they will) they can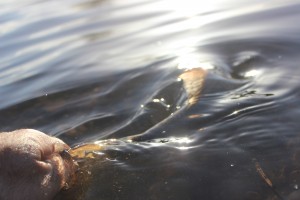 leave a gap…it's these little ones that will fill the gaps.
IS IT REALLY NOVEMBER???
I was going down to the flower meadow on the morning of the 31 of October to dig a little bit out for sowing and plug planting when I saw a bright orange butterfly, at first I thought it was a moth but the flight pattern was all wrong for it…but it was bright orange….I actually had no idea what it was for a moment and then I thought "Clouded Yellow", I have never seen a Clouded Yellow but it seemed to be the only thing in my mind that made any sense.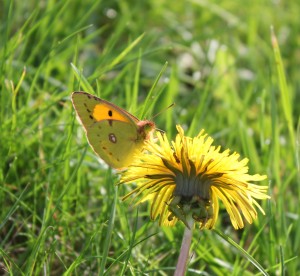 Trying to get a picture was a complete nightmare as the thing would not settle, it was intent on finding something to feed on, eventually it settled on a dandelion long enough for me to get a shot off. Not the best shot I admit but a record nonetheless. Clouded Yellows it seems are migrant butterflies that travel in from Europe to breed…I suppose they are a bit like Roma then.
Anyway I got myself down onto the field and dig out some more flower beds and seeded and plugged them with a mixture of Birdsfoot Trefoil,
Black Meddick and a little bit of Geranium Molle that was  found growing in abundance on an adjacent area of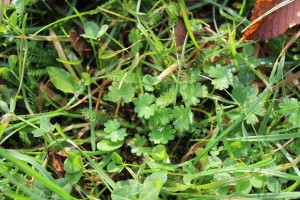 grassland.
The Geranium Molle or Dovesfoot Cranesbill is the fodder plant for the Brown Argus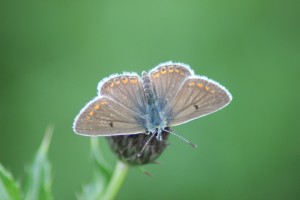 butterfly a species that I am determined to introduce to the site next year.
Denys Watkin-Pitchford or "BB" as the great angling writer is more commonly known used to do it…Why shouldn't I?
He once wrote "The gradual disappearance of our native butterflies, as well as some birds and plants, is one of the most worrying things today.  A certain south country forest I know, where the Purple Emperor still occurs, is now under threat.  When I last journeyed there I found that the sallows bordering the rides were being cut down.  I am now doing what I can to remedy the situation".
This is my mantra.
This is what inspires me.