ALDERFEN  CARP LAKE
By Ron Clay
Since I have already written a piece about Alderfen Fishery in general but as I had never fished the big carp lake,  I thought that I had better do something about that, as this particular lake is extremely attractive with its landscaped shoreline and stock of Leney's strain carp.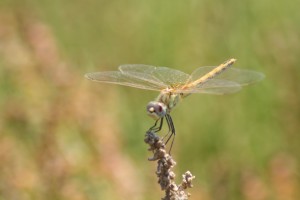 Ah, Leney's, to many this spells wondrous times when Richard Walker caught Clarissa at Redmire Pool.
For those of you who are perhaps too young to know, Don Leney was the proprietor of Surrey Trout Farm, the organisation responsible for the spread of carp in England throughout the 30′s and 40′s. These carp were of a Galician strain from De Nederlandsche Heidemaatschappij in Holland and to my joy, the Carp Lake at Alderfen is stocked exclusively with this wonderful strain of carp.
Now you must understand that I am not an expert carp fisher. Although I did some carp fishing in England in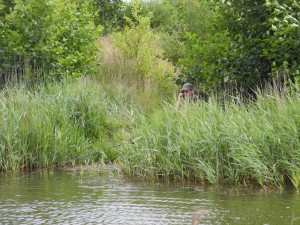 the 60′s and fished intensively for South African carp in the period 1968 to 1975, I would not however consider myself a carp fisherman  in terms of modern day carp fishing.
But 5 weeks ago I acquired a modest pair of rods and a 42 inch landing net, in addition to all the other bits and bobs, and baits of course. Such things as Delkims and bait-runners I already possessed.
I thus began an intensive study of all things pertaining to carp.
But let's return to Alderfen.
The carp lake is about 5 acres in extent and at first glance appears top consist of two separate pools. To those who think that this lake is somewhat small, well it's about twice the size of the previously mentioned Redmire and almost as good looking, with a few more years of maturation under its belt I believe Alderfen could in fact surpass it inn looks and possible in stock for having a pH of 8.1, this lake is an old sand and gravel pit and is solid with blood worm and other natural items of food .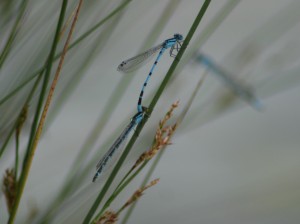 This lake has been landscaped with various types of shrubs and trees and is fringed with reedmace, bulrush, sedge and lilies. It does look the archetypal classical carp lake and catch fish or not, it's a pleasure to spend a couple of days bivvied up there
As I have stated, I started my carp fishing campaign 5 weeks ago. Initial results were not good as I lost two good fish at the net, one of them looked at least 20 lbs. But this brought me back and a subsequent session rewarded me with two "low doubles" – as they say in carp speak.
I arrived at 9-00 am on the Tuesday of this week and spent 2 hours walking around the lake, trying to decide where to fish. Suddenly a fish decided that for me and a big carp heaved itself out of the water and returned on its tail with a hefty splash, next to the rushes about 40 yards out.
So I set up my bivvie camp in the nearest swim and proceeded to spod out ½ a bucket of mixed particles and crushed boilies. Hook baits were a proprietary 15 mm fish-meal boilie – hair rigged, together with a little Goo for colour and a dash of Green Lipped Mussel for flavour .
By midday I had no signs, yet at about 2-00 pm there came a series of pulls on the line of my left hand rod that did not develop.
It didn't seem to take long and evening came. An early bright moon rose above the alder trees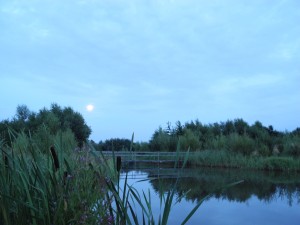 and the midges buzzed incessantly in the sky above my pitch.
Then quite suddenly my left hand Delkim came to life and the Fox Swinger bounced up and down as line was removed from the spool of my bait runner at a remarkable rate. I grabbed the rod and down went my fingers onto the spool in a vain attempt to stem the speed of the fish, which was considerable. Many years ago, Richard Walker writing in "Still Water Angling", claimed that carp could travel when hooked at 40 feet per second. I think he was a little conservative here and would put their speed at more like 60 feet a second. In any event my fingers were left with quite severe burns as I was determined not to let that carp get into the rushes.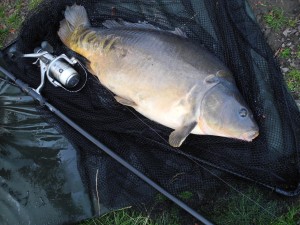 And here is a lesson for all of us. Those carp anglers who have a tendency to sit a long way from their rods, chatting to a mate in the next swim, are allowing a taking carp to get into reed and weed beds before they can control the fish. Not a good idea, fish can be damaged like this and this can result in fishery managers issuing all sorts of strange rules, rules that quite frankly we do not want.
But anyway the carp went onto the scales and the scales said 27lb and a few ounces…I was more than happy with this, I was even happier the next day when Dave informed me that this was a fishery record and an unknown fish to boot!
Alderfen truly is a great fishery….Why not give it a try.
Alderfenfisheries.co.ukOur address is:-
Alderfen Fisheries
Poles Bank
Wroot
North Lincs
DN9 2BG
Tel. 07772033398