This is the last article I wrote for the Anglingstar before Johnson Press pulled the plug…very sad.
Winter is coming! The bad weather is the way and if I am honest it cannot get here soon enough because I want to get out and about and do some hardcore chub fishing on the Trent, I have set myself a target of 7lb which is a little high but one I think doable if I can get out and about on the bank enough times and the weather is a little less unstable* than it was during the early part of the season.
* Well that request has gone completely out of the window, as we speak the river is out of its banks again just as it was for large parts of the summer and having a proper tantrum…lets hope we do not lose too many fish.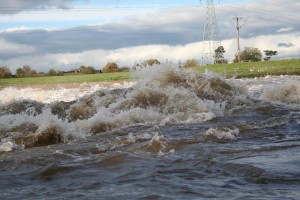 It is late September as I sit and right this article so there are still some warm days left before I don the base layers and squeeze into my "quad" levels of thermals topped off with a big fleece hat but I must admit that there is an edge to the wind and a golden staining of the leaves that has drawn my eye forwards to the onset of winter.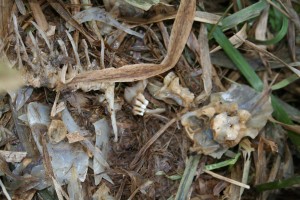 The cheese paste is already made and in the freezer and the homemade mash feeders are constructed and ready to go. I am ready to rock and roll.
One thing I do love about the cheese paste is that it is so malleable and allows the angler a of of scope to play around, although I think I play around with mine a little too much at times, I have been experimenting with Haitian Voodoo of late as a way of controlling the litter louts that plague some of my venues…It seems t be working a treat!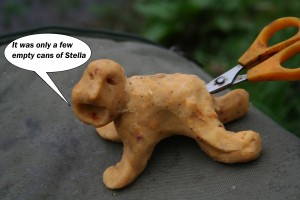 I will not say where about on the Trent I will be targeting on  my chub fishing sessions as that would be really bloody stupid of me considering the damage that could be inflicted upon the stocks by "for the pot anglers" but I will say that the venues I will be concentrating on are both tidal and non tidal as I caught 6 plusser's from both upper and lower Trent last season and feel both have the potential t throw up some serious monsters on their day.
Being a new member of the Chub Study Group this season has seen me begin to really start to document the information of each session and each fish I have caught, for example the warmest water temperature I found myself fishing this season was 18.7 degrees and the water temperature this week was 15 degrees falling to 14.8 as the session progressed, the river level was around a foot lower than the week previous and the water clarity was "Extreme" from what I would class as "Moderately poor".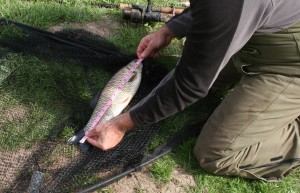 Keeping a record of length and girth
These details may seem a little bit anal but they do form part of a bigger picture that if we take time to study with a critical eye allows us to pre-empt what we should expect to happen in such circumstances.
I know that in the past I have never been one for moon phases or water/air temperatures because I believe that they can all have a negative impact on your "mindset" but if you do give them some positive thought you can cut your cloth accordingly and tried to make the best of a bad hand.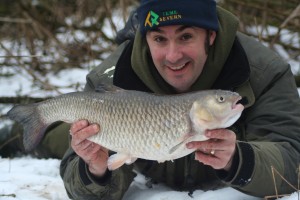 Bagged on a day any sensible bloke would have stayed in bed
 Look at my pb Chub for instance, the river clarity was "Super Extreme" the water temp must have been around a degree because there was ice in the margins and ice slurry in the flow, the snow that we had taken the days previous however was not yet in thaw and so the river was lacking the snow melt kiss of death. All I needed to do was put a small bit of steak on a hook and make sure I was ready if the tip went over.
And by ready I mean hand on the rod feeling the line "ready", when I am after barbel I can comfortably sit snuggled up in my chair under my oval and out of the wind but chub do not work the same as barbel. Yes, you are right I could wait for a "hanger on" whilst drinking hot tea and eating freshly buttered scones but I would in most cases miss 95% of all the bites I would be getting and so with that in mind I think that if I am going to go to all the effort of actually getting out fishing I should really do the thing properly.
Otherwise I may as well stay in bed and read a book.
So there I was sat in the snow besides a semi-frozen river in mid February with rod in hand (note the singularity) waiting with baited breath for the tip to go round and go round it did with both my fishing partner Martin Womble (and later that week Danny Johnson and Mike Townsend) and myself bagging some really nice fish topped off with the biggest chub I have ever seen outside of a glass case at 6lb 12oz.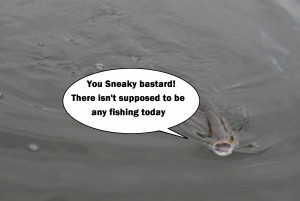 Even the Chub did not expect visitors the river was so cold
It was a truly awesome experience and one I hope to repeat and maybe even better this season and if I am to better it then I will have to be ready for the little windows of opportunity that will show them as the season draws to a close come early next spring.
So what rigs will I be using?
Well I won't be putting all my eggs in one basket that is for sure as one rig does not suit all eventualities in my opinion coupled with the fact that the venues I will be targeting are very different from each other so I will be using a combination of rigs that vary from the moderately complex to the ultimately simple.
The complex rigs are the ones that I will be using to fish steak/worm/cheese paste and flake in heavy/fast flow where the bottom is snaggy and I don't want the rig to move too much because of the snags.
These rigs try to alleviate the "dangly" bits of a rig that catch on the bottom of the river. The "simple" rig will be a free lined worm or slug at close quarters where snagging up isn't going to be an issue and I don't need to make much of a cast.
Already this season I have been messing around with free lined baits with mixed results unfortunately the one time I really got it to work for me was when I hit a pod of carp and had to settle for a day of catching juvenile water pigs, but saying that they were fun all the same and gave a good account of themselves on moderately light tackle.
And that is the big difference, using moderately light tackle instead of the 12lb Kryston Snyde and the 10lb Diawa lines which are a no-no when it comes to all out chubbing in cold clear water, yeah they will snag you a few "bonus" chub when you are barbel fishing in summer and everything that swims is in hook-a-duck mode and there is a little bit of suspended colour in the water to hide your misdemeanour's but heavy gear will not cut the mustard when the mercury is on the drop and everything has slowed down to an almost standstill.
Nope, winter time is a time for cuteness and stealth, it is a time for lightening the load and going mobile, do not expect the fish to come to you as they did all summer, walk the banks and find the fish, stay mobile, stay alert and stay busy otherwise your blood will freeze in your veins and your fishing will suffer considerably. Winter can be difficult at the best of times but it is by no means a time to pack away the gear and take up a full time position as a couch potato, get out and about…just not out and about near me…The Trent is120 miles long…use it :O)
And remember this one piece of wisdom that I console myself with when the weather is at its coldest, the fish are at their least responsive and everything looks bleak and without hope,  remember this one thing " It could be worse…you could be a United fan"
And if you are a "United" fan, console yourself with the fact that…The fact that…errr….The fact that… It "could" be worse, I cannot think "how" but I am sure it could be.
Tight lines everyone!