Have you ever had one of those days on the river, days when you can see a big improvement but know that it isn't quite ready for a "red letter" chub day just yet? I have, today… and I have to say it was bloody hard work getting a result out of the chub stocks especially when all looked lost.
My fishing partner Martin Womble and I arrived on the misty banks of the river Trent just after dawn to find that the she was still a bit overweight but dropping  down dress sizes nicely and regaining a little clarity, something she has lacked for weeks.
The balance of things seemed to have shifted back into the favour of  the visitor and that being the case I was rather optimistic…
My optimism was further raised when Martin slipped the net under a steak and mince loving chub not five minutes after making his first cast it wasn't a massive fish by any stretch of the imagination but at 3lb 8oz it was a welcome start none the less!
I would love to say that was the start of a hectic bagging session but if I did  it would be a lie…
I tried my best-est snaggy mardy arse semi-flooding spoilt bitch of a river rigs but to no avail…she just wasn't having it! I tried steak, I tried banana cheese paste, I tried bread, I tried offering a dead rat I found to Satan …nothing worked.
What's my best snag rig?
I will show you..it doesn't dangle!!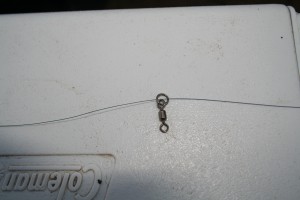 Thread on a large bore run ring/chod ring
( not to be confused with condoms for the oriental gentleman)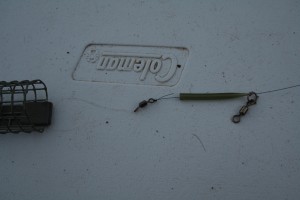 Connect to an appropriately sized feeder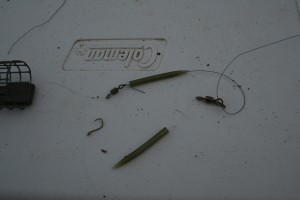 Connect hook length also with a thin tail rubber
( also not a Japanese prophylactic)
( but 4lb Kryston incognito fluorocarbon and a size 10-14 Preston hook)
Yes, I know it looks like a carp rig from a commercial fishery but it does work a treat when the sneaky old chub want to drag you through the roots or the bottom is a bit of a snag-fest, it lacks "dangle".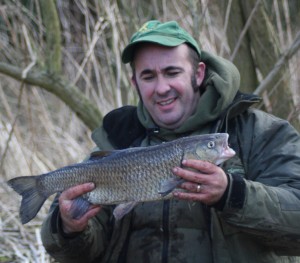 Anyway the "dangle" of the chub rig aside the river wasn't playing ball at all…nothing was happening! So it was time to "roll the dice", there is no point sticking to a method that isn't working even if you know it has worked a dozen times previous.
It was time to bounce!
Off the line came everything and on went 2 SSG which would be enough to get a decent cast "out and down"
Off came the Preston size 1o and went a size 6 Drennan hook ( no other reason than I did not have the Preston in a larger size. Both hooks are very good)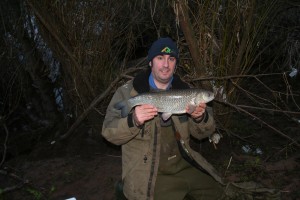 and onto the hook went a chunk of brisket that I had smashed up a bit so that is was rough looking not a cube.
The whole lot got flicked out into the river where it began to trip down down the peg…bump…bump…bump..BANG!!!
Fish on!!!
Whooo-hooo!
And my goodness did this fish go! It used the extra water and current to move at speed and at full depth before finally giving up the ghost after about 5 minutes and kiting in on the surface shaking its head in a final attempt to throw the hook! Chub are nothing if not sneaky!
Pictures were taken, congratulations given and received before  the chub was returned none the worse fore wear !
That would have been enough for me, I would have been satisfied with avoiding the blank but not 5 minutes later did another chub fall for exactly the same trick!! This chub however was a slight smaller at  3lb 15 oz a single ounce under the CSG qualifying weight …oh well not to worry!!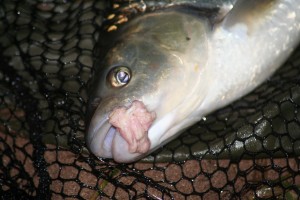 I was just glad I rolled the dice, it was the difference between a blank and a catch!!