Three mates of mine are currently planning for a sponsored barbel race to take place over 14 days in which they will attempt to capture 14 double figure barbel from 14 English rivers, one double figure barbel from each river. Who do they think they are Phil Smith!?!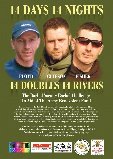 Jokes aside it is a damned good cause, so get your hands in your pockets! Don't listen to all that politically correct  rubbish on the television about Muffassa dying of thirst for want of a drink of clean water and the rest of it…This is for a proper charity.
This is to support members of the British armed forces that have served their Nation with honour but because of cut-backs and the need to pay the rent and council tax for a bunch of Islamic militants in South east London the coffers are a bit depleted so it is up to the British public to raise the funds necessary to support out men and women in their hour of need.
Jerry Gleeson, Baz Fisher and Paul Floyd aim to fish from August 8th 2013 from some of the following rivers, the list may well change nearer the time.
Swale, Trent, Dove, Derwent, Ribble, Goyt, Sow, Severn, Anker, Teme, Kennet, Lodden, Kentish Stour, Rother, Medway, Sussex Ouse, and Hampshire Avon.
The aim is to get sponsors for the team based on the number of double figure barbel caught or on the event as a whole. So donations are needed from friends, anglers, tackle manufactures, bait companies, retailers, please give generously.
Cheques or postal orders can be made out to "The Army Benevolent Fund" and should be sent to Jerry Gleeson, 42 Freemantle Street, Edgeley, Stockport SK3 9LF PayPal donations to Jerry-gleeson1@hotmail.com or our just giving page
If people wish to sponsor the lads per double caught best way is to contact Jerry via his email Jerry-gleeson1@hotmail.com and pledge that way and if people wish to sponsor the event as a whole then its better with Paypal or the just giving page.