I fancied catching a few Ide last summer and one place that has put itself on the map as far as Ide are concerned is the Haven Fishery in Doncaster, a quick call to the venue filled me in with all the details, the gates would open at 9am and be closed at 6pm and Sunday fishing finished on the 2nd of October…it all sounded pretty fair to me, nothing too radical.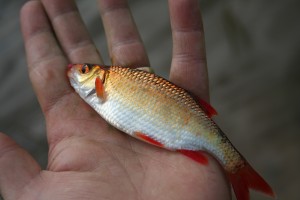 After sat-navving our way through Donny my fishing buddy Dan Stewart-Smith and me arrived at the  gates  just before 9am so that we would have first dips on the pegs. At a distance the whole set up looked good, I like security. I like organisation. It makes me feel comfortable.
At just before 9am a young lady walked across the courtyard and opened the gate, she was very attractive…the day was looking good and I hadn't even seen the lake yet.
Why don't more fisheries have nice polite attractive females in attendance instead of miserable whining whinging tobacco stained old codgers with less teeth than IQ points? ( the average IQ of bailiffs being 6)
Seriously it makes a refreshing change to be able to communicate with helpful and attractive ladies instead of having to force anything more than a begrudging grunt out of the fishing version of Steptoe's dad.
I have in my time come across some shockingly dire bailiffs…What a pleasant change…the day would start on an upbeat note whatever we managed to catch! If anything at all. In fact I didn't really care anymore.
Dan and I chose to fish at the top of a long land spit opposite two islands, it looked the part and with the wind coming over our backs the presentation should be all good.
Now I am not an expert on Ide but I do know that they will rise up in the water and take a bait just below the surface, I also know that they will become quite competitive if enough feed is introduced but being a continental species they have certain European traits specifically French and Italian ones, basically what I am try to say is that they cannot fight their way out of a wet paper bag. They look the part but all they tend to do is go 'flank on' and stick their fins out a bit, not what you would class as impressive scrappers when classed against a Rudd or Roach of equal size. This means that I would be able to fish very light and hopefully get a few more fish to boot!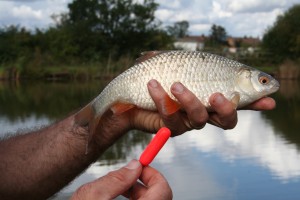 My tactics would be simple, a short poly waggler fixed with 4 rubber float stops and a hooklengths of 1lb 8oz flouro-crystal (I have no idea what the difference is chemically between this stuff and my usual brand Kryston Fluorocarbon but it looks the part and is very supple) attached to a size 18 barbless Drennan maggot hook however the main ingredient of my attack would be 5 pints of mixed maggot applied liberally via catapult!
The routine of the day would hopefully be catapult-cast-wind-catapult-strike-repeat…and that is pretty much what it worked out to be!
Roach and Rudd were the first fish on the scene with the average size being somewhere around the 10oz mark maybe going to 14oz on the top end but as sure as eggs are eggs the Ide soon located the constant splatter of maggots hitting water and before long I was playing a fairly decent fish of just over 2lb and that's when it all went a bit crazy…in fact if anyone had been watching they would have thought I was a half decent match angler having a bit of a practice session.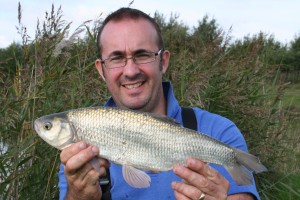 Catapult-cast-wind-catapult-strike!
Ide after Ide came to the net! The best being an ounce under three pounds!
What a days fishing it turned out to be, it was a fantastic break away from the routine and I can only recommend it to anyone wishing to have a very good days fishing on a venue that has everything I require from a commercial fishery. Good fishing, well spaced pegs, aesthetically pleasing surrounding with an abundance of birdlife and to top it all off attractive bailiffs that don't mooch around the venue dressed like tramps smelling of mouldy groundbait and stale maggots! It even has water voles!
I will defiantly be back!
For anyone wanting to fish the venue the fishery is at Haggs Wood, Stainforth (post code for Sat Nav: DN7 5HT) or you can call 01302 842857 or 07903 153830 for more details