Eels…A season to remember (and it's not even July)
Many thanks to Baz Fisher for sending me this article to reproduce, the eel is a strange and mysterious beast that does not conform to commercial ideals like the cyprinids  and as such demands the utmost dedication from its followers therefore to catch good eels on a regular basis demands a great deal of dedication. 
I'll just start by saying I'm no great eel expert, I was lucky to be on a couple of excellent waters and lady luck smiled upon me time and time again and still she smiles upon me this season as even though I'm not on the water as much due to the wife being nine months pregnant,  I'm still catching almost every time I get out, my last session produced a 4-14.
I started on my water last season and had just five fish off there, 3-00, 3-02, 3-08, 4-06 and 4-08 so I was delighted with the place and was itching to get back on there and get eeling once again.
I started relatively early in March as I couldn't wait any longer and the river season had closed. I knew in my head it would probably be a few weeks until I got a bite but within the first hour I had a boot  (bootlace eels are small eels as Jacks are small pike) of just less than 2lb which was very long and thin (36.5 x 5.5 inches). No more bites came that night but my confidence was sky high after a fish so early in the year, coupled with hearing of a few fish off the south coast.
As you know dates and times are not my strong point due to having a memory of a fish, but I'll try my best. I continued to fish 2 to 3 nights a week then in mid April I had my first multiple capture off the water which consisted of a big 2, 4-02 and 4-0. Little did I know this would be the start of something very special for me and I was to be totally blown away by what would happen over the next couple of months and is still happening now.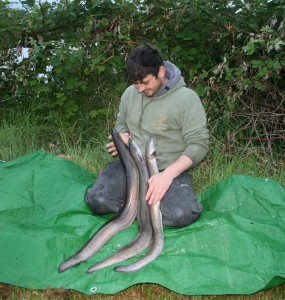 On April the 18th we had our southern fish in on a venue I'd been given by Dave Chambers for us to use, Nick Duffy picked me up with Ade at 4am and off we went. Due to the 3 of us being crammed in one motor with all our gear, Nick Rose had taken some of our gear including my bivvy down in his van for us to grab later that day. On arriving we went for the obligatory Wetherspoons breakfast and pint before arriving at the venue and setting up. It was pouring with rain which wasn't an issue because I thought I could just put my bivvy up and throw my gear in, I suddenly remembered that I had no bivvy until Rosey arrived, so I resorted to sitting there under a brolly with all my gear around me. To say I was wet was an understatement.
Eventually Rosey arrived and with the help of Duffy my bivvy was up quickly and I got set up properly. Time flies when you're having fun and it was now late in the day and I was absolutely shattered so I hit the sack. Apart from a couple of dropped runs I slept like a baby until the next day. On waking someone told me Duffy had ripped the water apart managing to catch 5 eels to 5-13 which he would go onto receiving Drennan cup for. It was the biggest eel I'd seen and still is now such a huge head on her and so impressive. I'm sure you will all agree but seeing a huge fish like that certainly is inspiring, I actually thought it was an easy six, so much so that I made him let me reweigh it but I was wrong, it was 5-13 on mine too. Amazing fish.
A few other eels were caught that night, notably Rosey having 3 x 3's and then it was Wetherspoons time again, another big brekkie and pint then back to the lake. The usual NAC shenanigans during the day followed and then dusk prompted serious fishing time. During the day I had moved my bivvy along the bank 30 yards from the corner to open up the swim. I had carefully baited my swim with dead maggots and I was set for the night and Duffy had altered my rigs earlier in the day shortening everything. I am sure it's the same for everyone but when experience (and someone who has just ripped the place to bits) adjusts things your confidence increases big time.
I had a few missed runs early doors and I just felt it wasn't going to be my night. It was a particularly dark night and I couldn't see my markers, the margin swims were easy enough to guess but my distance one could have been anywhere so during a re-bait I just launched my distance rod as far as I could and thought sod it and what a good decision that turned out to be .  At 1am I got a one toner on my distance rod and I was straight on it and hit it, my rod arched over like I'd not experienced previously and then it was a case of winching in this very angry plug. My legs were shaking but I kept pumping inch by inch, Dave Doe (the bailiff) in the next swim shouted over did I have something and the next thing I knew he was next to me with the net and some reassuring words. I get very excited when fighting an eel so much so that I become unaware of my surroundings, I have previously  walked into lakes and tried to stop fish going into imaginary bushes, so to have someone close by really does help. Then maybe 5 minutes later the fish was in the net, "it's a three" I said then Dave commented it is bigger than that. It was unhooked easily and she was in the weigh sling and by now I'd realised she was quite big. "This should be close to my PB" I exclaimed excitedly and the scales were going up, 4-11, 4-14, 5-02, 5-01, 5-02, 5-02 , 5-02. "Oh my god" I said, "I've got a five"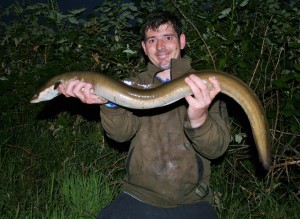 . The fish was sacked, Dave was hugged and off he went. Duffy was next to arrive with his congratulations then I think I went to Mike Jackson, I think I saw more people to but the memories are hazy and I was on cloud nine. To share the capture with so many mates and especially with Duffy who I have done my apprenticeship under was really bloody special. The morning came and the photos were took and it was home time. I had an unofficial target of a five that season and I'd done it on April the 29tt, crazy! If my season had ended then it would have been fine by me.
A couple of days later I was back on MY water, still buzzing from my new PB and reliving the moments from that night. Once again I threw a rod as far out as I could and once again I got a one toner, and again I got a 5-02, I barely remember this capture as is the way with me but I know I rang everyone and obviously rang Duffy first. A second five in two weeks from two different waters. I was in dream land but like any angler we keep going because you just never know.
The following week there was a day where conditions were just as I like them, warm and wet but I'll be totally honest and say I could not be bothered to go. I just wasn't feeling it and after checking the freezer I realised I had no dead maggots so it was a no for me. It was a Tuesday night I think or as we call it in my house 'Hannah's TV night' so she whinged at me telling me to go and eventually she wore me down so off I went with a handful of lobs. I'd fished the night before so I went in the same swim and dropped my baits over the same areas and very early on I had a 2-11 so at least the night was worth it I thought,. A short time later I had a 3-14 which ruined my rig in the net so I quickly set up what was basically a barbel rig and chucked it in the same spot as where the previous two fish had come from, right hand rod margin swim. Two hours later I hit another fish on the Barbel rig and this one fought different to any eel I'd ever caught, it didn't just go backwards it went sideways too taking out my middle rod in the process but asides from that she was quickly landed and she was monstrous and weighed 5-05 (which I proudly won a Drennan for). I was so happy that I had managed 3 PB's in as many weeks and I was on cloud nine, if I didn't catch again for five years I would not care. Incidentally I've not ground-baited with maggots again since, on this water with a good head of fish I don't feel its required but certainly when I move on I will resume the  ground-baiting.
The following week I caught a 5-00 (which I won a Korum cup for) which once again was from the same swim but the long range rod, then the repeats started…..yes I said repeats.
Maybe I'm on my own here but going around saying eels are only caught once and/or die after capture is NOT a good thing in the current climate with recreational eeling under fire from some quarters. I feel we really need to shout about repeats, yes I understand it ruins a bit of the myth but surely losing a bit of the myth if it helps save our sport then it is a fair swap?
The first repeat I caught was a 2-12 which I had only photographed because she was the Halle Berry of eels, a dark beauty with a very distinguishing birds foot type mark on her tail. I caught her again 3 weeks later two swims away from where I'd caught her previously, the mark had certainly faded but without doubt it was Halle Berry.
The second repeat was a fish that I neither weighed nor photographed either time as it was barely a two but she looked like she'd been tied up in line and left very distinguishing marks on her tail and head. I know I should be making more of an effort but the vast majority of my fishing is midweek and I need to get the car back to my wife early for her to go to work so it's a rush every morning.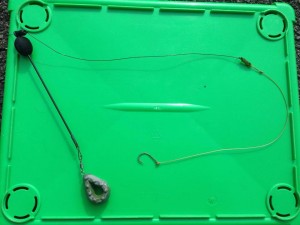 The third repeat and arguably the most important one for me came to my net not once, not twice but three times and as I write this I think it may actually be four times. She's a big three, a real two toned fish with a very definitive line between the two colours. I've caught her at 3-12 and 3-14 twice and all three times she came to worm. I can prove I've caught her twice but not the third time as it was the 3-14 I caught alongside the 5-05 so rightly or wrongly she never got the individual photo she deserved, although I did get a brace shot). Had I of stayed longer to take more photo's then the wife could have been late for work and that could mean the end to my fishing completely.
I've caught lots of 2's, 3's and 4's this season too, its' not just been about 5's. I think my catch return so far reads
10 x 2's
6 x 3's
4 x 4's
4 x 5's
and it's only July.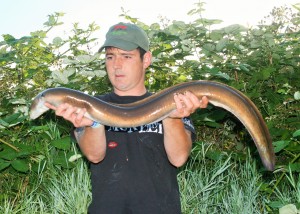 I'm not daft enough to think this is normal fishing and I'm sure I have years of blanks ahead of me. It's purely down to the fact I'm on a special water that does have some history but after a fish kill in its heyday I don't think anyone expected these results.
Viva La eel.
Baz