The Trent…From Carbology to Zangling
This is an article I wrote a couple of years ago, I thought it suitable to bring back to the fore as a reminder that the River Trent holds more than just barbel. 
I love fishing the Trent, it is a passion of mine that has never waned but often wandered, sometimes far off the beaten track of accepted wisdom and common practice. For as long as I can remember I have always kept an open mind in regards to the species of fish I am supposed to be targeting , often switching mid session.
In the very late 80's and early 90's I was just getting into the catching of barbel, the strength and power they displayed was utterly addictive to me. Maggot feeder and chunks of Pek luncheon meat had fish after fish coming to the bankside for a photo session and very soon it was apparent that the numbers and size of barbel in the Trent were on the increase, fish size averages began to creep ever upwards until conventional tackle was no longer up to scratch. Where I would have caught school barbel of around the 2-4lb they soon became 5lb-7lb average and not many seasons' later fish began hitting double figures…and so my tackle and methods began to change.
Carp fishing gear began to replace my match gear , Mitchell 300's were replaced with Shimano Aero's and these in turn were replaced with Shimano Bait-runners and short session angling made way for 24, 36, 48 and 72 hour sessions, without realising what was occurring I found that within a few seasons I had become a specimen hunter of sorts.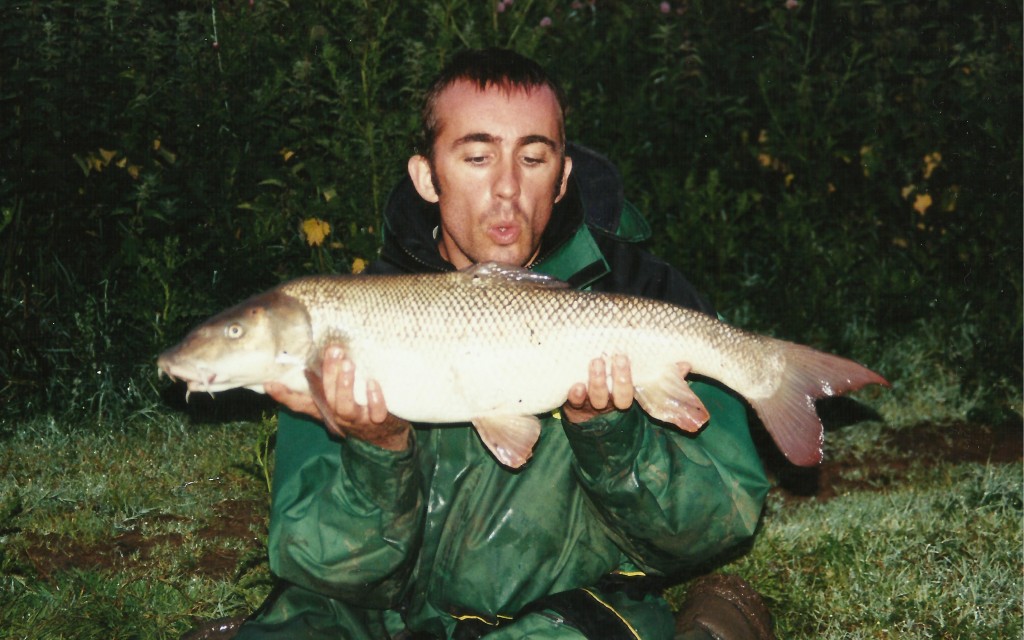 My methods of fishing the Trent had also changed, gone were the loop rigs, the 5lb hooklengths of Maxima and feeder stops made from small tubes of plastic and in came hi-tech hooklengths of supple braided spectra, invisible fluorocarbon and numerous shades of coated braid to match the different shades of riverbed I fished over.
Baits were homemade concoctions, wild and crazy mixtures of assorted chemicals, the fruits of countless hours experimenting with ingredients I found in ASDA, Tesco and Netto, coupled with exotic palatants, strong smelling oils, alcohol thinners, thickening emulsifiers, nutrition boosting proteins and their easy to digest component parts the invaluable amino acids.
And success followed …barbel after barbel hit the bank. But so did the carp, the bream, the chub, the eels and the very occasional tench.
I had without realising it become what is now known as a "Carbeller" I had fused two different styles and methods of catching fish into something greater than the sum of its parts. Now I am not for a single minute suggesting I was the first Carbeller and that I invented it, the style was being developed through natural parenthesis by numerous other inquisitive and adventurous anglers at the same time. We were all evolving in the same way in response to the change in the river itself, no I certainly wasn't the first Carbeller but I was without doubt in the first generation.
In fact the first time I heard the term it was via Bob Roberts and by that time I was already fine tuning and polishing the method.
And it was fantastic! I could (and still can) confidently expect to catch a lot of fish from wherever I went on the Trent often out-fishing the regulars by three or four fish to one but still I wanted more…always more. Never really striving for bigger…simply more!
More bites more fish on the bank more …species…
And it was at this point when my attention moved over towards predators I soon became aware of the "offbeat" and almost mythical predator of the Trent …the Zander!
Here are a few words that I wrote about the Zander six or so years ago…
Trent zander
For several years now Trent Zander have been something that I have been aware of but have not seen with my own eyes. Mythical creatures like the Wells Catfish and the Burbot (I reckon I have more chance of seeing an arapaima swimming up Clifton Grove methinks than spotting the latter) So when I was fishing for pike recently on the middle Trent, I was very interested in the capture of a two pound Zander by a bloke over the other side of the venue, "I will be wanting one of those" I said to myself… "Yes, I will have to catch one of those!"
And catch one I did…eventually!
Reading up on the zander soon had me working on a list of possible zander swims along both the tidal and non-tidal Trent, structures, bends, inlets and confluences being a magnet for my scrutiny.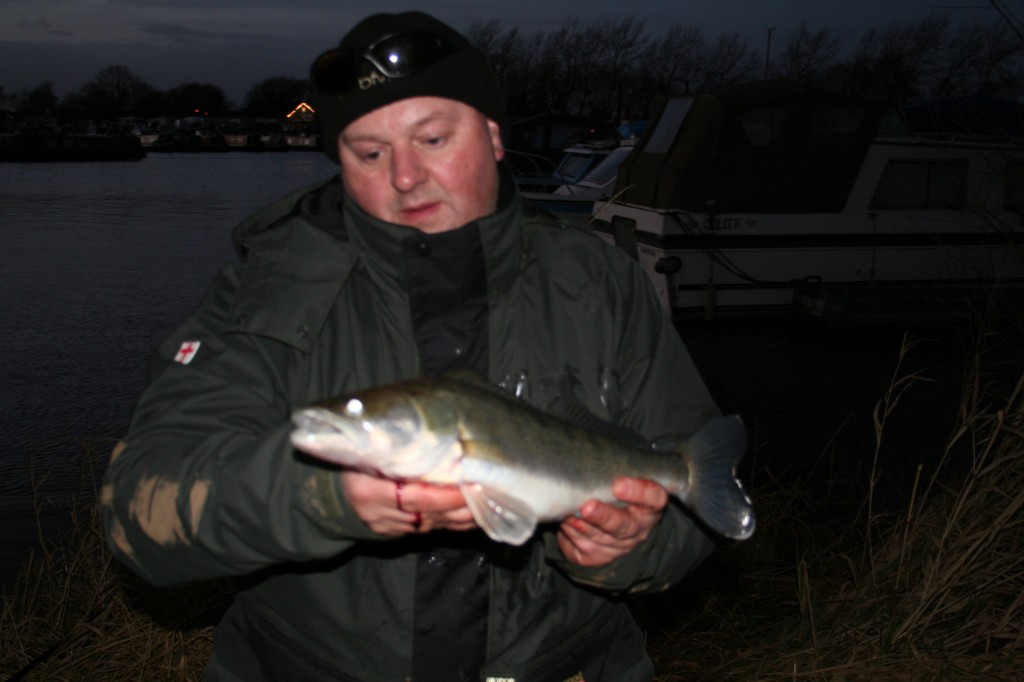 My Fishing partner Martin Womble was the first person I saw catch a zander on the Trent
My initial forays were without exception dismal failures, it wasn't that I couldn't get bites, I could, unfortunately it was mostly pike and perch that were responsible for the numerous pick-ups that had my heart racing but every so often I connected with a tiny Zander. Connected being the operative word rather than landing, fish after fish glided in across the surface of the river before simply letting go at the net, fish that looked no more than a half pound haunted me…Taunting me with their ability to absolutely never ever get properly hooked!
But failure never lasts if you learn from it.
A long sweeping bend on the tidal that had flashed up as a possible swim was the first place to give up the goods. I had tweaked my rig and removed as much resistance as possible from the set-up, a half bleak on a size 6 Drennan Super Specialist barbel hook was the bait of choice, touch legered along the crease just as the sun was dropping onto the tops of the trees. The bite was nothing special, a couple of plucks and a gentle tightening before I struck into a fish that fought like Audley Harrison on tamazapam, less than a minute later I had my prize!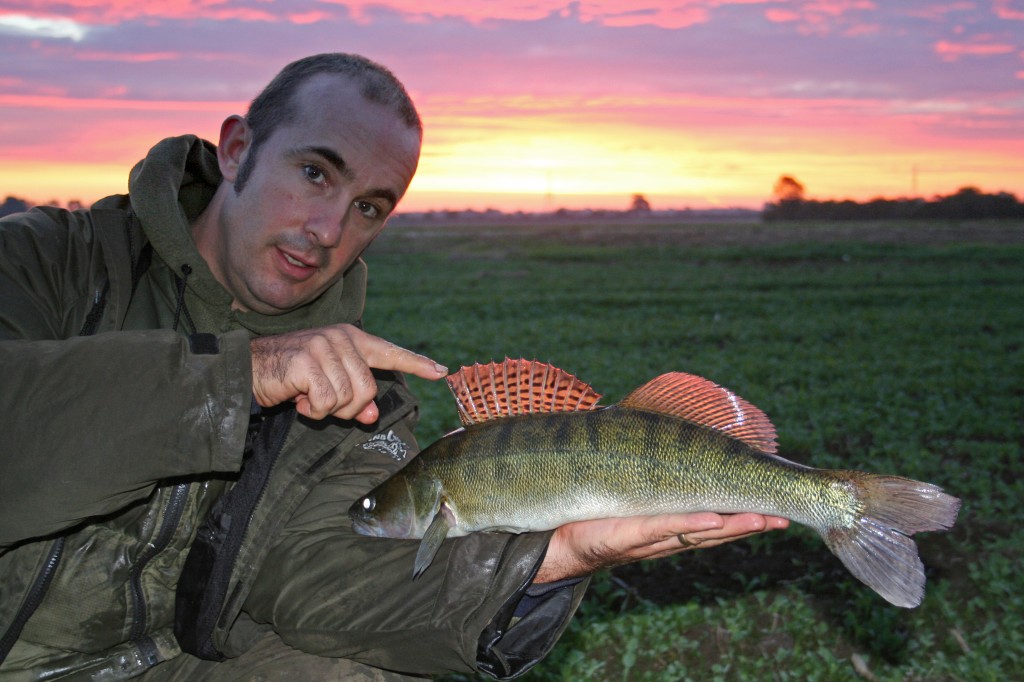 At last!
A smallish zander of maybe 2lb joined me on the bank and got itself in on a great days fishing I shared with another of my great fishing mates Daniel Stewart-Smith, part of a 10 species catch of fish which also included chub, bream, roach, eels, perch, bleak, dace, gudgeon and of course barbel!
I had become what my good mate Dicky Fisk calls a Zangler!
Dicky, his mates Lunghi Jim and Pikey Paul Howarth had been for a while targeting multi-species catches on the Severn or Sabrina as they like to call "her" with good success…And here I was now with my fishing buddies doing exactly the same on the Trent!
And it was fantastic!
Success breeds confidence and confidence brings ever more success, every session I set aside the time and a percentage of my rods to maximize my opportunities, each week trying something new. Sometimes my sessions would coincide with conditions that would to some look to be dismal but with the application of a bit of Carbology and Zangling expertise these potential failures were transformed into multi species bagging sessions.
My preferred method for catching zander I soon decided was the quiver tipped/touch legered fish section or small whole fish fished on the slack side of a good crease swim, preferably one that had a fair change in depth.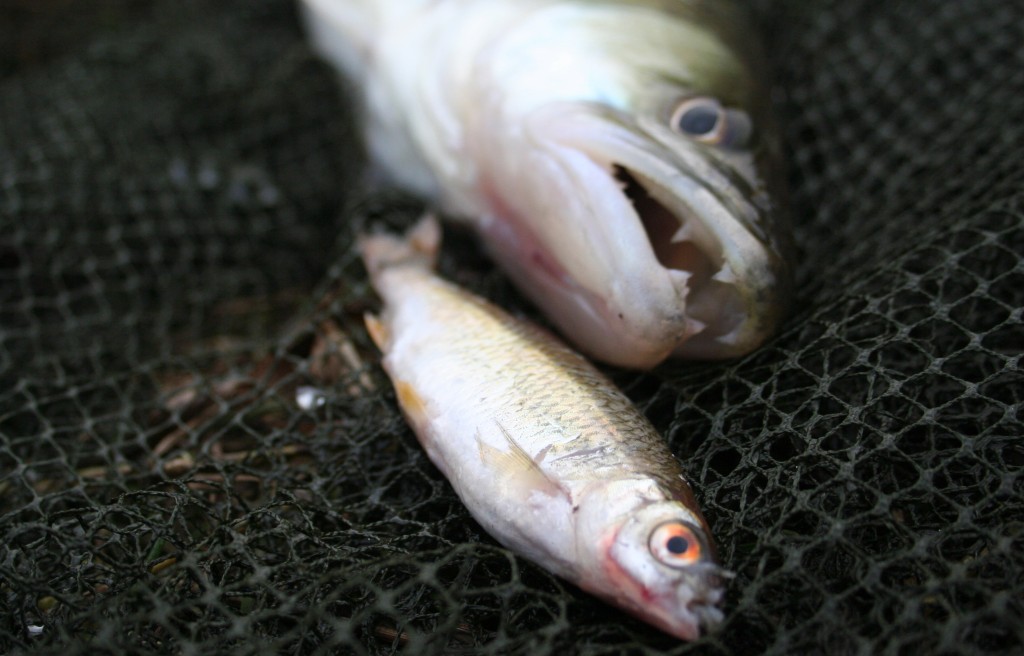 Very soon, along with the numerous barbel that I was catching were multiple catches of zander with three four and five fish falling for my "time passing" Zangling/Carbelling styles and methodology. The most enjoyable sessions last season were like chalk and cheese, the first good session was early season with a low clear river barely trickling through. It was an important session as it was the first time my wife ( Tina) and daughter ( Olivia) had been persuaded to accompany me on an overnighter session and so I did not want either of them to get bored. Fishing three rods I set about trying to maximize opportunity whilst at the same time not wanting to over face them with techniques.
My Mark Tunley Big River/Flood rods were given the heavy task of putting a big feeder full of micro-pellet ( I am a consultant with Teme Severn now so all my bait is from Teme Severn, however there are other great bait suppliers out there so please feel free to experiment with your own preferences) My hook bait for the two barbel rods would also be micro pellets, fished in a cluster (super glued) on a small size 14 Drennan Super specialist and a long ( 5-7 foot) Kryston Incognito Fluorocarbon hooklengths. This is my standard daytime clear water Trent set up and last season it stood me in good stead as I suffered zero blanks!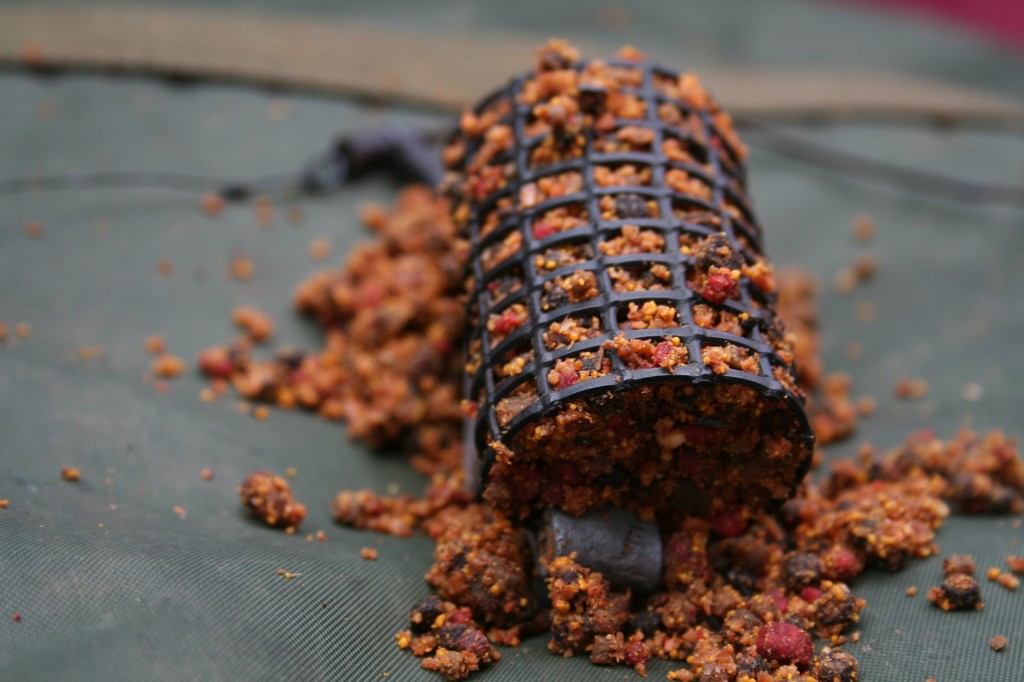 The third rod was a Greys Prodigy Barbel Rod, far lighter than the Tunley's and therefore easier for a 10 year old girl to handle when the time comes not that tackle weight and difficulty will stop her having a go with the Tunley's later in the session when they slam over…And slam over they did!
Olivia was given the task of catching me a small live bait and she did not disappoint, within a minute the third rod was out with a very small bleak attached to the end and Olivia was given the task of watching the quiver tip whilst all the time feeling the line for pulls. Zander bites can be the most fickle things, however this one was not, the rod jagged over and Olivia did as she was told and wound down before striking firmly into he first fish of the day.
I would love to say the battle was immense but I would be lying if I did so, the inexperience and size of my daughter leveled the playing field somewhat however the battle was still a one way affair and very soon a Zander of 8lb lay in the folds of my net.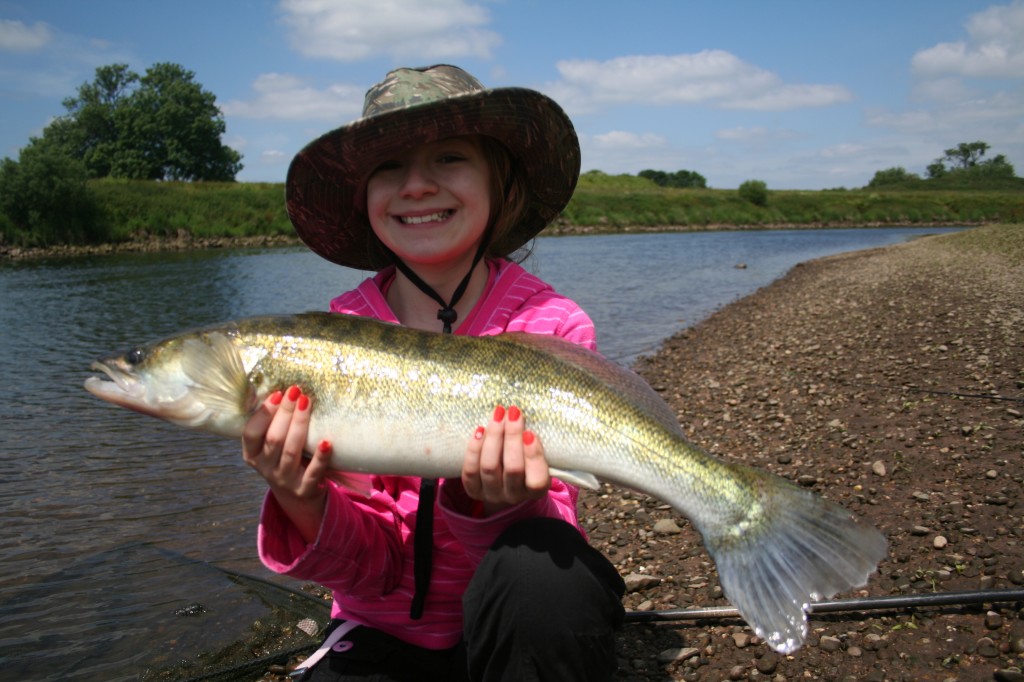 Olivia was ecstatic!
Pictures were taken and the fish returned, the rest of the day passed in a blur with several more small zander being caught whilst the barbel began to make an appearance; soon enough the sun set and that signalled a procession of good barbel to just on the doubles mark and a massive personal best chub of  6lb 3oz to visit the net.
Tina and Olivia retired to the bivvy for some sleep whilst I fished on…As dawn broke they returned to action and caught a few more fish before we called it a day and wrapped up.
The second session that sticks out from last season was weighted more towards the predators with just the one rod out for chub; this session was fished at the end of the season in a mud pit of a swim on the non-tidal and pike were the predominant target fish. However it does have a track record for good chub so it would be a waste of my fishing time to not try for them.
Baits were bread for the chub and small frozen roach and the best sardines I have ever managed to get hold of for the pike.
I arrived just after midnight, which I accept is not the best of plans in February but if you really want to fish a swim sometimes you have to make the effort. I spent a fair while making sure everything was safely set up, I do not want to trip or fall on misplaced tackle when fishing in the dark (and alone) in winter, it would not end well I am sure.
Casting to "marks" is easy as there is a fair amount of light pollution which illuminates the river and so within a few minutes I have three rods out and within a few minutes more I have one rod back in with a pike on the end of it!
Catching pike in the middle of the night is something I have started to do quite regularly of late, this fish however was only a small jack and didn't really warrant the effort of a self timer shot in this mud-pit of a swim.
The rest of the night soon passed with another pike and several dropped fish…Now this swim was not one that was in an area noted for zander but these bites were very Zander-ish and the last fish actually flashed at the net before dropping the small roach …Could this indeed be another zander swim?
The sun came up and the pike "came on" in earnest with a good double of 16lb plus coming to the net, now I think pike are stunning creatures but this fish was a proper warhorse with lots of scars and not a single scale along one flank, it was also hosting more leaches that I have ever seen on a fish.
Getting the rod straight back out it wasn't long before the Delkims began to warble as the sardine was picked up again…reaching for the rod I wound down and struck…Thump!
The fish glided to the left before flashing upwards and rolling on the surface some 25 yards out in the murky water…Bloody hell!
It was a zander…and by the looks of it a big one! My heart was in my mouth! The fish bored down deep and gave as good a fight as I have ever had from any other of its kind before rolling into the net and snapping its mouth at me like a crocodile, snap, snap, snap!
Luckily I had struck very early and the hooks were easily removed. This one warranted a good self timer shot but first I needed to apply a number to it.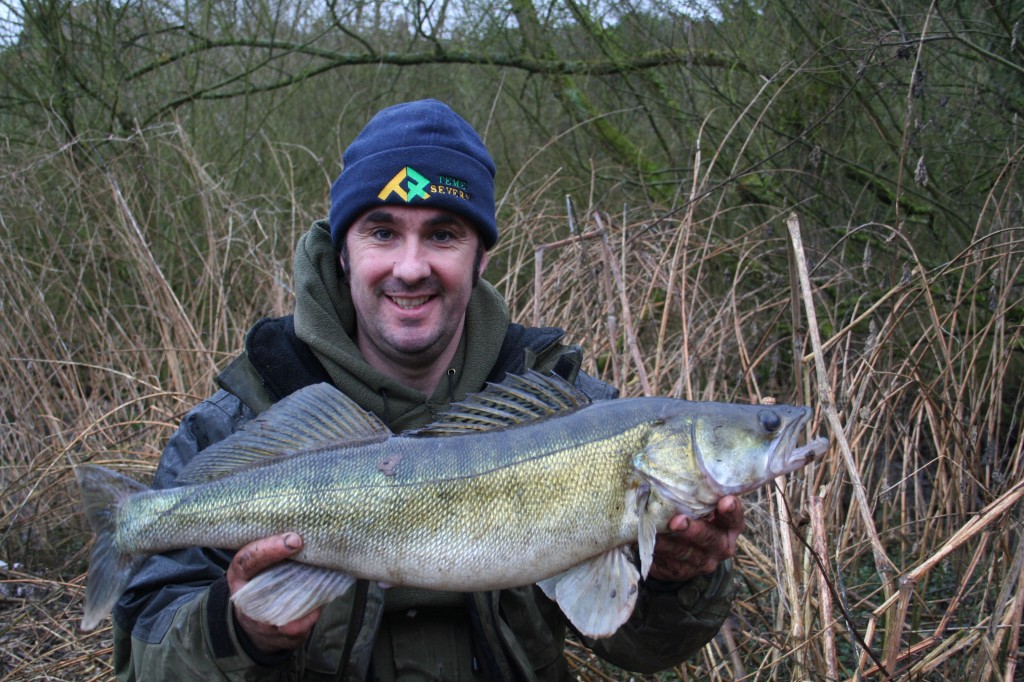 10lb 11oz
A good number in my books, a new personal best by just under 2lb! More bites came during the day but none were on the chub rod that was using the bread, the only action I could get was on the sardine. Reeling in after one aborted bite I was faced with some evidence that was irrefutable, the sardines head was utterly mashed. A pike would slash and a zander would puncture…only a cyprinid with pharyngeal teeth can mash…and the best bet considering…Chub!
The chub rod was brought in but this time the bread was left off, a nice one inch section of sardine took its place, lobbed back out the bite was instant…and instantly missed! The bait was replaced this time with the hook going all the way through the fish and just showing the point at the bottom of the bait. The small feeder was filled with smashed up sardine and again cast to the same spot….Wham!
The rod banged round and I was in!
The scrap was an awesome display of chub power and I knew immediately that this was a good fish, a huge mouth came to the surface as I lifted my net…I had it! And it was a clonker!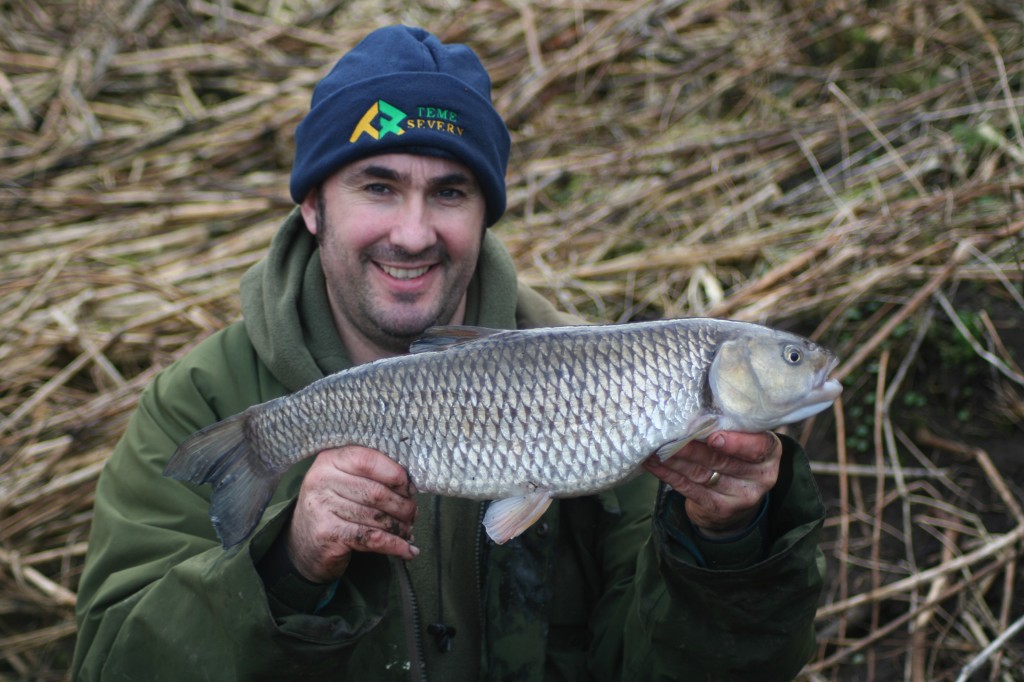 The scales said 5lb 10oz but it looked bigger, short, wide and fat with a huge head. I thought to myself that had the 6lb 3oz fish I had on the tidal been built in such a way it would surely have gone over 7lb.
A few more fish came during that session before I called it to an end deciding that a few cold beers a hot curry and a warm bed were a better option than staying out any longer…and anyway…I had almost run out of bait.
Boredom and blanks are not for me; I work too hard and have too few days off to think about wearing my blank sessions like badges of honour…chuff that for a game of Subuteo!