THE BIRTH OF THE HOOK BAIT COMPANY
(With a little help from my friends)
By Darren McCann
The birth of  The Hook Bait Company has followed a long gestation, as some of you are aware I have been designing and manufacturing boilies for many years now (23 years in fact) and have had some tremendous results along the way. I have been rolling my own bait since I was 21 when I was fishing lakes such as Farlows and Little Britain for carp and tench. Over time I challenged myself to fish more esteemed waters such as Horton, Cape Boards, Pit 4 and Nutty Lane and caught a fare few fish so naturally I started rolling pop-ups for a few of my friends.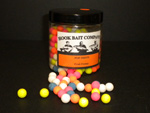 I made the move from London to Wales in 1999 and left the carping behind me, and instead I concentrated my efforts into catching chub through my early pioneering on the wild Upper Severn. It was through my pioneering that I developed my very first bait creation 'River Secret' which I had designed to tempt the chub from the notoriously difficult upper reaches of the Severn in Wales, to try and educate the fish into seeking out my bait in preference to all others.
The River Secret bait accounted for no fewer than 48 chub over the magical 5 lb barrier for me from this river and I needed to know that the bait could have similar results on other rivers.
I had recently joined the Chub Study Group and I managed to persuade the club secretary Iain Nairn to try my bait on his fabled Dorset Stour and I was pleased to hear that Iain experienced some very good sport from the start with fish to over 7 lb being caught on the River Secret bait. I was very happy with these results and so I decided to sell my bait on e-bay to try and get the bait going in various rivers around the country. I was soon receiving positive feed back from some very happy anglers, some catching new personal bests using the bait. I was selling the bait as the Hook Bait Company which was more of a weekend hobby really, as my usual work involved me travelling around the country fitting out hospitals with bathroom dispensers.
During the closed season of 2008 I decided I wanted a new bait that would not only be recognised as a good food source but would actually be beneficial to the well being of the fish, and promote a healthy metabolism. After much deliberation I designed a bait profile that consisted of a balance of vitamins, minerals, high amino compounds and of course pre-digested fish proteins to balance the oil content of the arctic grade fish meal I had chosen as a main component of the base mix. The actual flavour of this bait is a combination of proven attractors that are appealing to the fish, with a few strange fruit flavours that once mixed produces a really pungent smell. When I was quite happy with my shopping list of ingredients I made up 5 kilos of 12 mm boilies and put them in the van as I was due to work in Bournemouth for the week. I phoned Iain to ask if he could obtain a ticket for me to fish his stretch of the Stour and offered him a few kilos of the new bait I had dubbed 3-B as a thank you.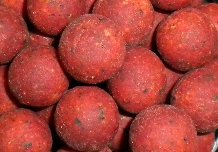 On my arrival to the river I met up with Iain who had been baiting up a couple of swims with the last bit of River Secret he had, and I just spent half an hour or so talking and watching the river. I decided to throw in a few handfuls of 3-B boilies and rested the swim for another half hour before making my first tentative cast. Like an idiot my first cast ended up in the bush on the other side of the river, and I turned round to Iain who just had a slight smirk on him and the said 'well that's no good boy'. I managed to pull free and mounted another boilie on and actually managed to drop it in the river this time, and after a few minutes Iain made his way to his swim. A few minutes later I had a few tiny knocks and after three thin air strikes I finally struck into a fish that did exactly what Iain said they would so and run down stream. The rod I was using was a bit over the top for this river being 1 lb 10 oz test and soon the chub was defeated and rolled over my waiting net. On the scales she went 5 lb 7 oz and I was over the moon that my first fish was this weight, so I put her back in the landing net and rested her in the edge to recover. A quick cast back to the same spot resulted in another quick tap on the rod tip almost immediately so I crooked my finger around the line and literally felt the line tensing immediately so struck and felt solid resistance. This was mad – I did not expect to have instant success on the Dorset Stour like this!
Again the fish was quickly subdued and upon lifting her up on the scales she went 5 lb exactly. I called Iain over who was surprised I had 2 fish in the net and he looked at the chub and said he possibly recognised the larger fish which was normally mid six. It was only a short session and I was to join Iain again the next evening for another couple of hours. I opted to fish the same swim again and duly baited up again with 3-B boilies and very quickly caught my first chub at 5 lb 4 oz, followed quickly by a fish just short of 4 lb. Iain again came over and remarked that 'we don't catch fish under 4 from here' but congratulated me for the captures anyway. Eventually Iain hooked his first fish which scaled over 5 lb and soon after had to go home due to a prior engagement and bade me farewell.
I threw in a few more handfuls of bait and fifteen minutes later I had an almighty rod-wrencher that completely shook me from my seat, but grabbing the butt I found myself attached to a very angry fish that just went up and down the swim trying to get under every weed raft. Eventually it just gave up and popped up to the surface and gave up the ghost in complete submission and just lay there motionless. The light was now starting to recede but I could clearly make out the size of the fish and I am afraid to say that I was really disappointed that the fish was not as big as the fight it had put up. Pulling it over the net I went through the motions and dragged it over the near side reeds and as I pulled the net up but it felt snagged on something so I stepped forward to see what was stopping it but was shocked when I saw the chub lying there with its enormous frame that I could not see in the water when I was playing it. With both hands I pulled the net up and felt the weight of the chub, realising I had a new personal best. On the scales she went 6 lb 10 oz beating my previous best by 3 oz, by which point I lost it and started shouting to the river saying thank you for my present and generally acting like a little boy dancing on the spot.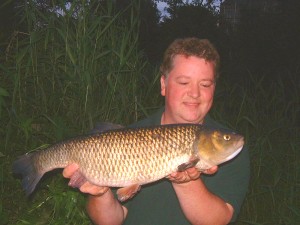 I phoned Iain and told him about my prize and he was genuinely chuffed for me and was sorry he could not be there to share in the experience. I soon packed up after taking some photos and fell asleep in the van very, very happy.
The following week saw me once again on my beloved Severn in Wales for an overnight stay which I was really looking forward to. I had decided to continue using the 3-B bait instead of the River Secret and liberally scattered some bait in a few chosen swims opting to fish them in rotation and after 30 minutes or so I started fishing.
My first fish came within 10 minutes and settled the needle of the scales at 5 lb 4 oz, quickly followed by another at 4 lb 12 oz. I really felt that I was on a roll with the new bait and so sent a text to Iain with the results. Imagine my surprise when he replied that he had been experiencing similar results during the week with fish to 6 lb 13 oz all falling to the 3-B. A few days later I received a call from Duncan for an order of 3-B boilies and paste mix. Duncan picked it up a week later and a few weeks later he reported catching a brace of double figure barbel on it. Iain also got on the barbel catching a new personal best at over 13 lb, so the bait really was working well. My mind was made up and I knew I just had to somehow further the development of the Hook Bait Company as a going concern, and finally six months down the line I took the plunge and leased business premises to start actively promoting my own baits through the website and through the catch reports from my field testers and team of consultants.
It has been a long slog from its inception but finally with the help of my consultants including Iain Nairn, Jerry Gleeson, Barry Fisher and Lee Swords , and a bit of good luck along the way the Hook Bait Company is now a reality.
Wishing you every success
Darren McCann