I first met Tony at a Barbel Society national conference (2006 I believe), we made up a nice little table in the bar with a couple of Tony's mates along with Gary Knowles and my fishing partner Martin Womble where we proceeded to demolish two bottles of whiskey via a camera case that doubled up at an optics dispenser, it was a good night but a pretty rough following day. I felt well ropy, I don't know about Tony, I didn't see much of him on the Sunday but rumour has it he was in a worse state than me.
I am pleased to publish an article not about British barbel but Spanish barbel, something that seems to be showing up strong on the radar of most British barbel anglers that are of a mind to catch and get a sun tan at the same time.
SPANISH BARBEL
By Tony Rocca
I don't know about you but when I'm on the way to the river I have usually picked my swim, baited, and caught a few barbel before I arrive. In my minds eye of course. How disappointing is it when you turn up to find your choice swim, or swims, occupied by another angler. The day gets off on a downer for sure.
I now fish in a place where that never happens, no not Hazelford, it's called Extremadura and it's in Spain. It doesn't happen because by and large the Spaniards don't fish for barbel. They have only just cottoned on to carp fishing this last decade or so and whilst I have no doubt that barbel fishing will gain in popularity as time goes on, the signs are already there, for now at least it's an English barbel fisherman's heaven.
There are literally hundreds of miles of prime barbel river and lake side in spectacular settings and "if" you are unlucky enough to find a Spaniard in your chosen swim don't worry, he will only be spinning for Black bass and will move on in 5 minutes or so.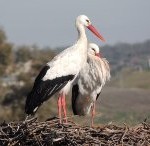 You might think that rivers and lakes full of fish that don't get fished for means that the fishing is always easy, I can assure you it's not. The first time I went to Extremadura I fished the river for a whole week and did not catch a single barbel, I don't think I even had a knock. You see I made the same mistake most Englishmen make when over there for the first time. I assumed that because I know how to catch a few on the English rivers the same tactics and approach would work, wrong!
Your Spanish barbel is a very different animal in a very different environment, and they can sometimes frustrate the hell out of you. But I like to learn and in the last seven years the Spanish barbel and I have come to an understanding whereby I can usually  catch a few now.  Just like at home, I had to understand the Guadiana River and its occupants to succeed consistently and that was never going to happen overnight.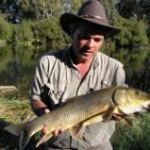 I am mainly a river angler so spend most of my time over there by running water catching barbel to low double figures. These are not the giant Comizos that the area is famous for, though I did hook a barbel once on the river that scared me to death, the barbel won! No, the huge Comizos are more commonly found on the huge dams, when I say huge I mean HUGE, Embalse Sierra alone has 200 miles of bank and that is just one. There is Zujar, Orellena, Garcia Sola, Alange, etc…… all enormous by our standards,…… as are the carp and barbel. The fishing on these waters is very location dependent as you would expect but can be fantastic, you might just catch that monster too.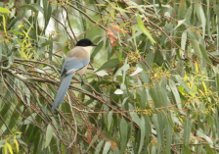 But there is a lot more to fishing in Spain than the fishing. The Exremaduran people are a  warm and friendly lot, an Englishman is a bit of a novelty, this isn't the Costas remember its proper Spain and the quality of the ambiance in the bars is only surpassed by that of the wine and the famous Iberico jamon. I haven't even mentioned the stunning wildlife.
So, want to go to Spain barbel or carp fishing,……. here comes the advert…… You could do far worse than contact Alan at Extremadura fishing at     http://extremadurafishing.com .      Alan is an ex Trent man from Worksop and is fast gaining a reputation for providing a cracking good time, which is what it's all about after all. If you fancy a go on running water I may see you there.
Hasta la Pronto.
Tony Rocca.