Roxholme Trout Fishery
"The Roxholme Grange Trout Farm and Fly Fishery is a family run business that consists of a well cared for and maintained fishery situated on private land owned by Roxholme Grange in the village of Carlton in Lindrick, North Nottinghamshire, England."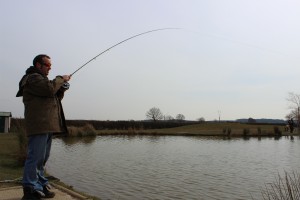 That is the 'blurb' on the front page of their website, I have to be honest it doesn't really do the place justice because it is in my opinion one of the best small still water trout fisheries in the north of England and they should say that with confidence.
As I said in my April 2013 blog I would be having a moral boosting session after a few trout as the river season finished on a catastrophic low for me, what I didn't say is where the session would be.
Well, the cat is out of the bag!
the Cats Whisker that is.and the Matuka Leach, the Gold Headed Black bugger and the ubiquitous blob of many colour's!
Although I did not attach the blob as I was having too much fun fishing properly to have to resort to blob and bung fishing to nab myself a few fish.
On arrival at Roxholm Trout Fishery I was impressed with the well stocked lodge and even more impressed by the open and friendly nature of the Andy, the main man that runs the place, some venues seem to be owned by a strange breed of people that do not see the fisherman/ fishery deal as a symbiotic relationship and content themselves with simply taking what they can get and giving as little for it as is humanly possible.
That is not the case here.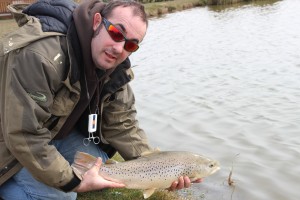 Which makes me happy before I start fishing :O)
So where did I start?
I started with an 8 foot 7lb Kryston Incognito Fluorocarbon tippet to a Gold Headed leach with a Matuka tail and the fist cast resulted in my first fish, a decent rainbow trout of around 2lb which as it happ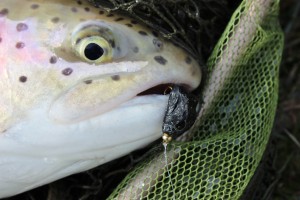 ens would be one of the smallest fish on the day!
My first 4 casts resulted in 3 fish..one rainbow, one blue and one brown!!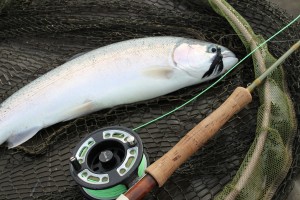 By lunchtime I had taken a dozen fish to a gut wrenching 9lb 14oz, a trout that had double figure stamped all over it…alas it was just a tease! To make matters worse I had also done a 9lb 5oz fish and a 9lb 8oz fish….It looked like I would not be getting a double figure trout, which was the whole point of this mission…Dan Stewart- Smith however had a trout that looked like one of the old school hybrid types, it had a porpoise style humped back and a gut full of spawn that took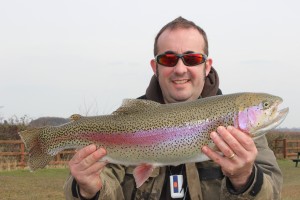 it just over the magic mark.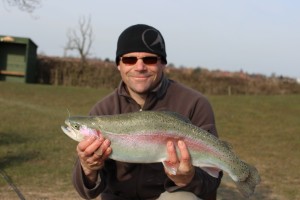 No sooner had Dan had his fish did Jamie get one as well…and then shortly afterwards I hit into a fish that felt like a nuclear submarine, a complete beast that stripped me down to the backing in a bout 5 seconds!
Would it go double?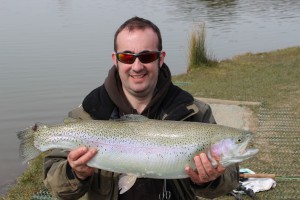 Er, yeah!
It went through the tens, elevens and a just over halfway through the twelves to a new personal best of 12lb 9oz!
What a fish and what a  fight! Once again the killer fly was the black leach!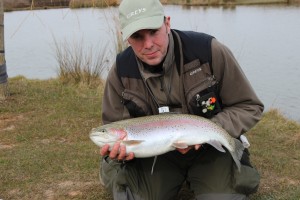 The rest of the day went on in the same vein, Jamie ended up with 14 fish including 2 doubles to just over 11lb
Dan finished up with 15 fish with one double but a lot of 9lb fish
and I finished up with 26 trout including 2 doubles to 12lb 9oz a quad of nines and a stunning Brownie of 8lb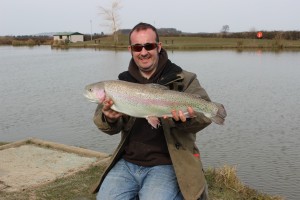 So 57 trout between three anglers working on an average of 6lb per fish gives us a rough total of somewhere in the region of a 350lb total catch weight…not bad in anyone's books!
Scores on the doors?
Value for money…I had a £36.00 sporting full day 5/5
Venue… immaculately clean and well kept 5/5
Fish Stock…hard fighting and generally in very good condition…this is a p/b breaking water 4.75/5
Fishery Lodge…Well stocked and good value 5/5
Other Amenities…I like a nice toilet…I got one…5/5