Here we are in June, fishing during the closed season has been a little restricted, the weather has been poor, the mojo has not been feeling it, work has soaked up a bit too much of my time and the memories of those Spanish Comizo and Small Headed Barbel has distracted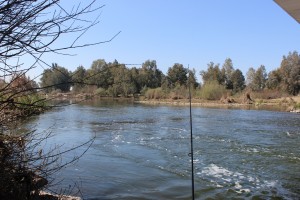 me a bit.
The thought of sitting on the banks of the Trent surrounded on all sides by other anglers all trying for their shot at glory has me left a little cold, I haven't even booked the opening week of the season off as I have done for the last ten years or so…
Admittedly I am going to be on the river a week or so later for a couple of nights, I just didn't fancy the insanity of the opening night.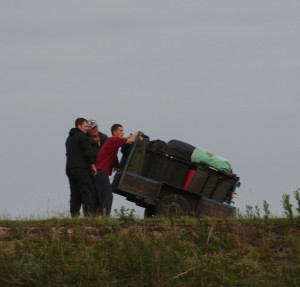 This is a picture of a group of anglers arriving at Collingham a few years back , I am not knocking them in anyway but the stretch was already very busy and these lads were obviously going to be in it for the duration, there would be more (C12H22N2O2)n in the river than H2O come the opening bell at midnight!
That is a killer blow for me, I hate to be crowded, it utterly screws my method of fishing, I am ok as long as I competing against the river and the river alone, I can do that, that bit is easy once you have learned the moods of the thing and have developed a little bit of watercraft…it is when you have to start compensating for other anglers on the bank when it can all go tits up.
GW RIG SOLUTIONS….GOOD STUFF….GREAT PRICES
Anyway I will be on the river eventually and so I had better get myself kitted out with some odds and sods, usually I like to deal with shops but whilst on Facebook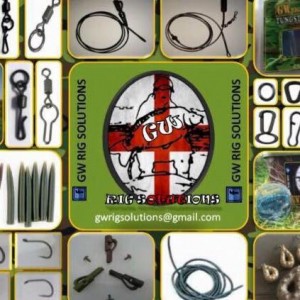 the other night I saw an advert pop up for 55 leads for £40.00 by a lad called Gary Whelan ( I would add him if I were an angler on Facebook)
Gary runs GW Rig Solutions supplying all manner of bits and boobs that we anglers just have to have.
That said I was a little bit nervous of ordering something via the internet but the offer was a good one and not only will I be on the river soon , I will also be in Lanzarote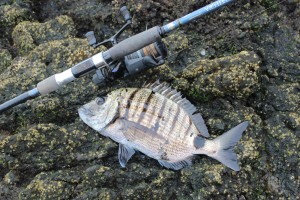 in the not so distant future and a good supply of leads for there will definitely be needed so I bit the bullet and ordered some.
I need not have worried, the transaction went smoothly and the leads arrived two days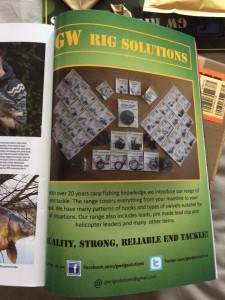 later!
Gary also included a packet of hooks with the leads for me to have a look at, the hooks look to be very strong and extremely sharp!
I am loath to use anything other than Drennan hooks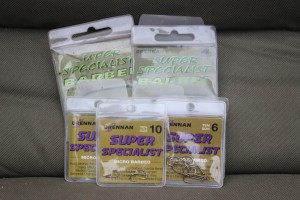 but these will deffo be having a run out.
If you never try anything new your fishing will never evolve and improve.
I expect that I will farm a few of the leads out and dish a few more out to kids over the seasons first few months as well and that being the case I will be using GW Rig solutions again with an easy mind knowing that they do exactly what they say they are going to do and my gear will arrive well packaged and at a reasonable cost.
I am a tight fisted Yorkshireman afterall.
Back on at Roxholme with Hobby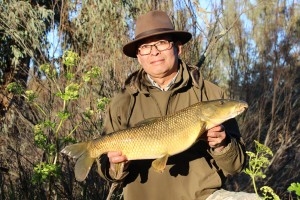 Soon after arriving back from Spain Ian Hobkirk and myself decide that we would do a bit of fly fishing at Roxholme.
I like Roxholme, Andy keeps a very well run little water and he cares for his "babies" like very few other fishery owners I have ever come across
Roxholme is great because it is a PB machine that churns out big fish like a machine, I have never fished the place and not had a "double" and generally end up with around eight or nine fish and of those two or three will be doubles, my best session on there was my first when I banked 27 fish with four or five doubles and a combined weight easily in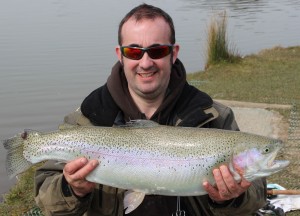 three figures.
Fishing at Roxholme is an easy affair for me, I like either small lures tied onto strong hooks or blobs of various colours fished under a bung and allowed to drift with the current created by the pumps.
Takes can be anything from savage to the downright pernickity and every little tweak is worth a hit.
Hobby was first in I believe with a decent trout before bagging himself a nice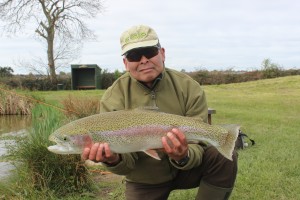 double a pb of 12lb 5oz and then another pb of 12lb 13oz
I wasn't far behind with a good of fish taking a small black leachy looking lure as I crawled it in just under the rod tip, the take was nothing more than a good solid tap that wrapped the end of the rod round no more than four foot or so, the fish went airborn soon after, mt arse twitched a little and the line sang like a bitch!
I soon had it on the bank unhooked and released, it wasn't a double so it didn't need to be weighed and measured shortly after this was when it  all started to get a bit silly, It may have been karma for letting a lady take a really good swim and in doing so have to see her bag a really nice Brownie of 12lb plus or it may have just been plain old dumb luck, I think I will go with the latter but then again they do say you make your own luck…I then had fish of 13lb 5oz ( a new PB), 12lb 9oz and a colossal beast of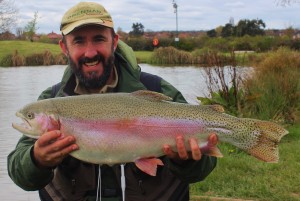 a rainbow that went to a gut busting 15lb 9oz
a number that obliterated my very new old pb by a couple of pounds, wow did that fish fight, it screamed off at a rapid rate of knots and had a level of stamina not usually seen in trout but the fight of this fish was nothing compared to the fight of my last trout, this creature was on a different level!
when the net finally slipped under it I knew it was a good fish and Andy was on hand to give it a number…And the number was…..10lb 13oz…and the best bit was, it was a Brown Trout, my first double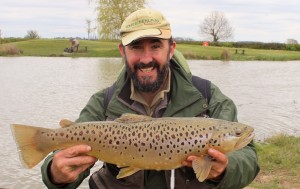 figure brownie!!
And what a stunning fish it was too!
Huge raisin sized black blobs, smattered with streaks of violet on a fully finned golden beast!
So all in all I broke my BP Three times times twice on the rainbows and once on the Brown.
I like fishing at Roxholme it lifts the mood no end!!
At Alderfen with Eggy
I have always liked Alderfen, it's a nice looking venue that is maturing lovely, the flowers are ace and the wild life is great so when my dad decided it was time to come out of hibernation and dust off the fishing gear Alderfen was an easy choice to make.
dad would be fishing the new speci lake which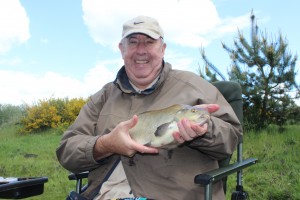 was the old match lake and I would be fishing the Pads lake which was the old specimen lake….
I hope that makes sense.
I would also be attacking the place using a long soft rod and a center pin real with one of my wasp gall bobber floats, I could sit behind a pair of buzzers and wait for it to blast off, I could even take the bait boat and make sure my bait is in absolutely the right spot where the fish are moving but no, I don't want to do that, I want to go old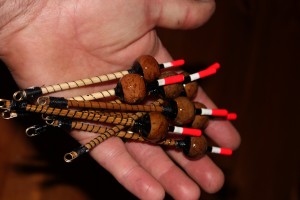 school.
It is good to set yourself a target, it doesn't have to be pounds and ounces, it can be a method or a species…whatever floats your boat.
Anyway after a short chat with big Dave the owner and receiving the sad news his one eyed Staffordshire had gone to the big kennel in the sky I set about attempting to bag myself a decent fish.
I walked around the lake and dropped a bit of bait in, eventually I found a feeding fish, a little votex and a reed being knocked the give away signs of activity, the bait was lowered in nice and quiet and the float sailed away, the rod went round and then the hook came out.
Bastard.
Oh well, start again…
eventually I found another fish and did the same this time the float went down and the rod went round and the center pin went mental…the hook was holding and I was attached to something rather spirited, it was soon obvious that it wasn't one of the bigger fish ( I always seem to miss the bigger fish) but the scrap was epic fun on tackle that I am not yet a master of.
Anyway after a few minutes the net went out,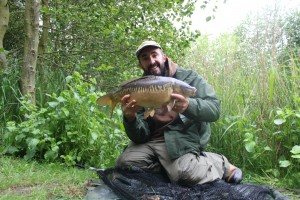 a big pair of lips hit the surface and within a second or two I had my prize!
Not massive, one of the smallest fish in the lake in fact…but mine nonetheless and caught using a method nobody else was using on the day.
On the Field
The butterflies have been conspicuous by their absence, the Brimstones are very scarce, the peacocks and tortoise only really showing in good numbers when the temperature rises but one species that has really popped up this year is the Holly Blue, I have spotted them sunbathing and taking on minerals at the edge of the woods about a dozen times or more now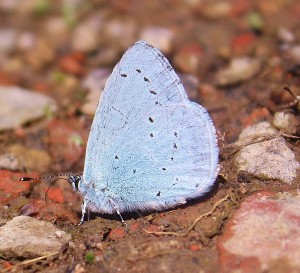 These are a  very pretty little blue with a very strange feed and breed plan. one batch feeds on holly the next feeds on ivy.
I am sure that when the weather does finally get its shit together there will be a good hatch of stuff but as it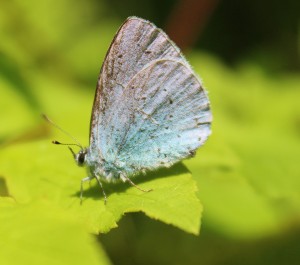 is I feel like a jilted bride. waiting for the groom to arrive.
The EU Referendum
It has all got a little bit crazy, the entire thing is a mess, lies, deception. subterfuge and bollocks galore.
I will be voting  OUT.
That is my choice and that is my opinion, my view of opinions is a simple one, there is little point in having an opinion unless it is a strong opinion and you are willing to defend it.
Well I am willing to defend my opinion.
It is my opinion that the EU is corrupt, its purpose is to destroy national identity, generate debt and create an environment where big business and multinationals can reap the highest rewards and be damned anyone or anything that stands in the way of this.
My evidence is the rising disparity between rich and poor, the utter destruction of Greece as an independent nation state, the ongoing French labour riots and the insanity that is the mass ingress of migrants from all manner of countries regardless of the fact that many of them could well be terrorists intent on causing death and destruction.
What we are seeing is treason and when the Remain people wheel out anyone and everyone to persuade me that they have my interests at heart  I am a sceptic especially when they are of the calibre of Tony Bliar, Tony Bliar a man that sent under equipped British troops to their deaths to fight illegal wars, the Kinnock's, a Champagne socialist dynasty that have made millions on the back of the EU, Gordon Brown, a vile bully of a man that called the rightful concerns of one of his core voters "bigotry", we also have Peter Mandelson, an insidious creature that had to leave Government how many times for dishonest conduct? a man that liked to rub our noses in diversity! John Major the most insipid little grey blob of mouth sick that has ever been Prime Minister  I wouldn't trust John Major to run a bath never mind a country or give me his opinion on the formation of a super state, his PMQT's were dreadful affairs, goodness knows how he managed to perform with Edwina, I pity the woman if his bedroom performances reflect his political performance, five minutes of missionary followed by a warm milky drink.and finally David Cameron, a fat faced disappointment of a man that I had high hopes for but alas it seems the only thing he is good at fucking up more than the future of the UK is the head of a dead pig.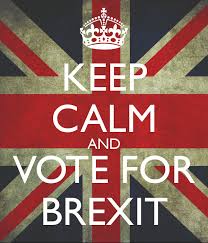 When pig fuckers, traitors, failures and scum bags tell  me that the EU is in my interests, when they tell me that  I am wrong to wish to remain part of a democratic nation, that I should forgo my national identity and enter into an unholy alliance that is so obviously poisoned and doomed to failure,  I come across very Carl Pilkington and claim in no uncertain terms…….BULL SHIT ….BULLLLL SHHHHIIITTTT!!!!!
Somebody somewhere is having our pants down, somebody is taking the piss and somebody somewhere is raking in one hell of a lot of money and I guarantee you one thing…It is not the working class.
Fuck the establishment. Vote for the start of a new age, vote for freedom. vote for a future…just vote!
VOTE OUT
FFS