June Fishing Blog
A river season is a marathon and not a sprint and although I was there at the starting post with all the rest of them I was slow out of the blocks. There had been some rain before the big " all in" and if truth be told I should have seen it for what it was before settling into a peg that I had previously done well on opening days.
The river looked a little up, the colour was a shade on the grey side for me and the water temperature felt a touch on the cool side, not cold by any stretch of the imagination but cool…Cool enough to have slowed spawning down for certain.
After 7 hours without so much as a sniff I decided to act on one of the best bits of advice I have ever been given by match fishing legend and paste maker extraordinaire Steve Gregory " You cannot catch what isn't there"
And that is the truth of it, the fish were not where I had taken it for granted they would be, they were still on the shallows and spawning beds, the river was a little late and the extra water that came with the rain was laden with all the crap that the storm drains and sewers had accumulated over the previously dry month or so and that being the case it was my opinion the river was a suffering with a drop in soluble oxygen that was keeping the fish in the faster more oxygenated water of the shallows.
I made a move.
Not too far, maybe 400 yards but the difference was marked, the extra movement in the water was obviously what the fish wanted as I had a chub of 4-10 in the net within minutes!
The HBC Meaty Pro boillies doing the trick, a couple more smaller chub followed the first one before the rod ( this is one rod peg) slammed over into a wild arc and I was left to do battle with my first barbel of the season and a good battle it was too!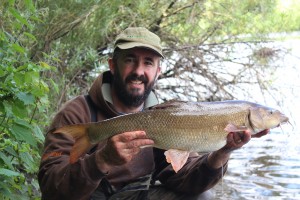 Eventually the battle was won and I had my first barbel of the season at 10lb 7oz, its always nice to start the season off with a double and I think I have done this now for the last three seasons, happy days, I hope it is a good omen!
I also had a nice chub of 5lb-10oz which was everything a six but was lacking in "substance",the substance being eggs, a protruding ovipositor ( egg squirter) evidence enough that this fish had only just finished spawning.
I will be giving the Trent a miss for a week or two I think before I return!